Monogram 36" Induction Cooktop
FEATURES WiFi Connect Built-In Cooktop Burner Type 5 Induction Elements Fuel Type Electric Style Smoothtop Element - Left Front 7" 2500W Indicator Lights 5 Hot Surface, Surface Element "ON" Short Description 36" Induction Cooktop Element - Right Front 8" 3200W Control Location Front Center Cooking Technology Induction Cooktop Type Induction...
• Own this product? See Maintenance & Care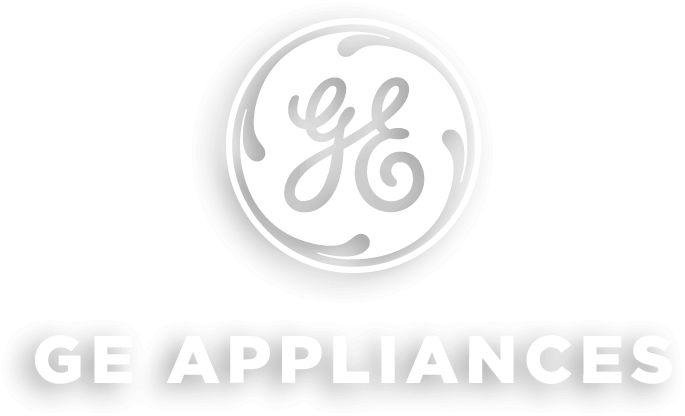 5 Induction Cooking Elements
This 5-burner induction cooktop provides rapid heat that quickly responds when you change the temperature. Electromagnetic technology heats the pan, not the cooktop surface, allowing the cooktop to stay cool.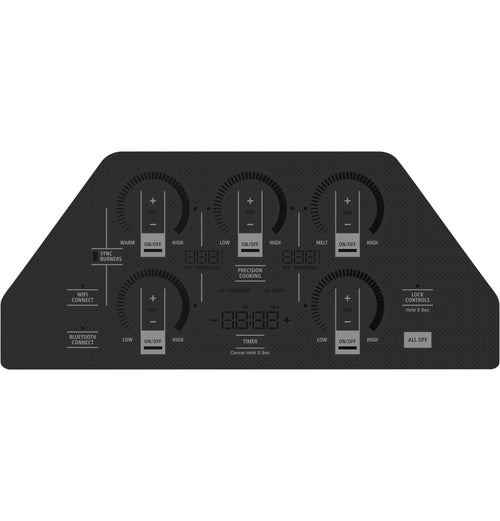 Guided Cooking
Follow along a video-guided recipe and your burners will automatically adjust time and temperature using a smart pan. Experience the joy of a perfectly cooked meal, from scallops to scrambles. Pan sold separately.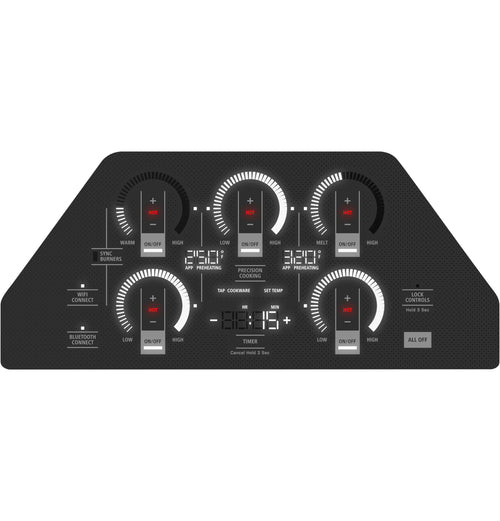 Precision Temperature Control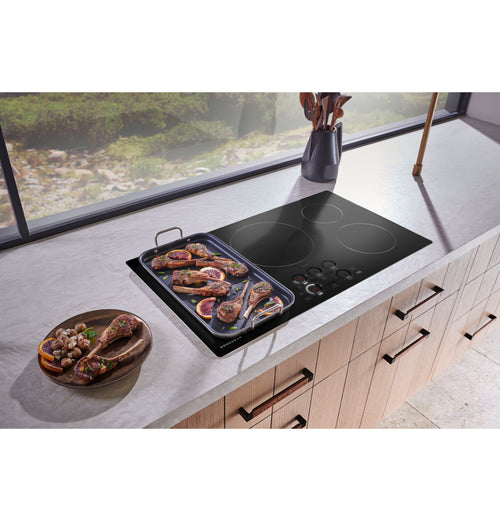 Flush-Mount Capable
Optional accessory kit enables the cooktop to be flush inset into the countertop for a sleek, modern look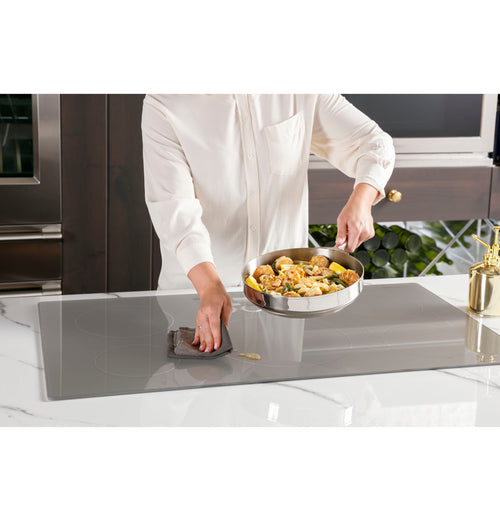 Glide Touch Controls
Choose from 19 different heat settings with one easy swipe for precise heat control on this easy-to-clean electric cooktop.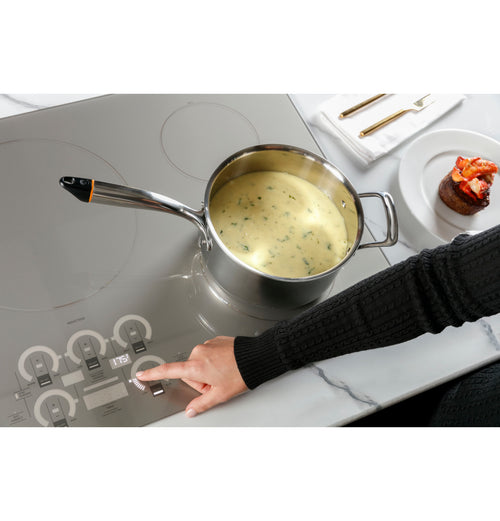 Synchronized Elements
Connect and control two cooktop burners as one to create a bigger cooking surface for pans such as griddles.
| Feature | Description |
| --- | --- |
| Control Location | Front Center |
| Control Type | Electronic Touch Slider |
| Cooking Technology | Induction |
| Cooktop Burner Type | 5 Induction Elements |
| Cooktop Control Features | Control Lock Capability, Electronic Touch Slider, Melt Setting, Pan Presence Sensor, Pan Size Sensor, Sync-Burners |
| Cooktop Type | Induction |
| Element - Center | 11" 3700W |
| Element - Left Front | 7" 2500W |
| Element - Left Rear | 7" 2500W |
| Element - Right Front | 8" 3200W |
| Element - Right Rear | 6" 1800W |
| Fuel Type | Electric |
| Indicator Lights | 5 Hot Surface, Surface Element "ON" |
| Power Level Indicator | 19 Levels |
| Short Description | 36" Induction Cooktop |
| Style | Smoothtop |
| Timer | Kitchen timer |
| WiFi Connect | Built-In |
| Feature | Description |
| --- | --- |
| Color Appearance | Black |
| Frameless | Yes |
| Installation | Above 120V Advantium, Above Wall Ovens (except SDWO), Above Warming Drawer, Flush-mount capable, With Telescopic Downdraft |
| Feature | Description |
| --- | --- |
| Approximate Shipping Weight | 57 inches |
| Cabinet Width | 36.0 inches |
| Cooktop Size | 36 inches |
| Cutout Dimensions (Width x Depth) (In.) | 33 inches |
| Net Weight | 51 inches |
| Overall Depth | 21.13 inches |
| Overall Height | 3.25 inches |
| Overall Width | 36.25 inches |
| Feature | Description |
| --- | --- |
| Max. Connected Load (kW) at 208V | 10.1 |
| Max. Connected Load (kW) at 240V | 11.6 |
| Max. Current Draw (Amps) at 208V | 48.6 |
| Max. Current Draw (Amps) at 240V | 48.3 |
| Recommended Circuit Breaker (Amps) at 208V | 50 |
| Recommended Circuit Breaker (Amps) at 240V | 50 |
| Feature | Description |
| --- | --- |
| Labor Warranty | Limited 2-year entire appliance |
| Parts Warranty | Limited 2-year entire appliance |
| Warranty Notes | See written warranty for full details |