GE Profile™ Smart Mixer with Auto Sense
$1,199.00
$499.00
FREE SHIPPING!!!
* Free Shipping on Small Appliances orders only.
FEATURES Settings (.) Stir to 11 Accessory Port Works with third-party attachments WiFi Connect Built-In Included Accessories 7 qt stainless steel bowl, Commercial grade 11-wire whip, Commercial grade stainless beater, Commercial grade stainless dough hook, Pouring shield Connected Capabilities Amazon Alexa, Google Home Type Countertop - Indoor Built-In Smart Scale...
• Own this product? See Maintenance & Care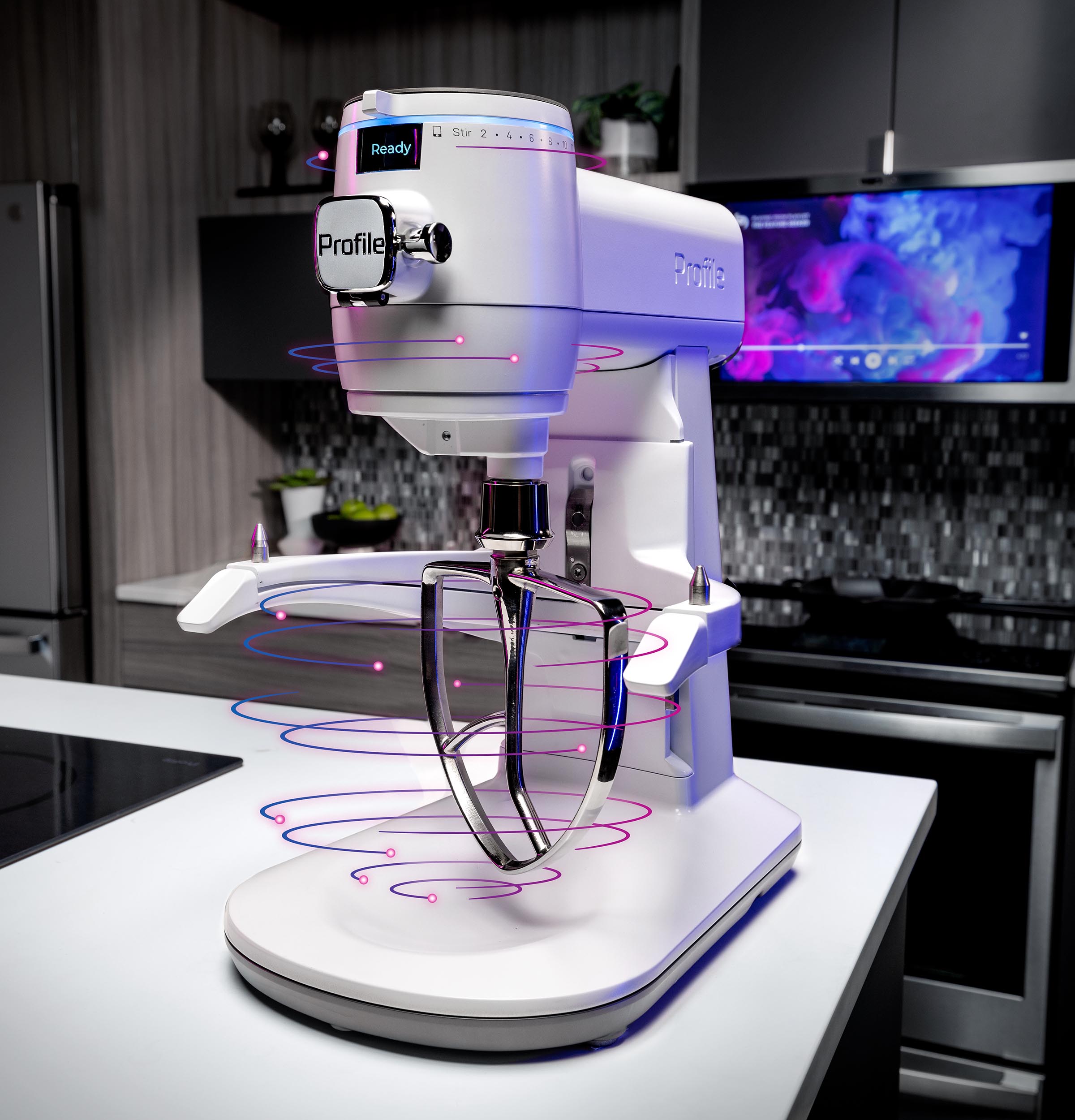 Auto Sense Technology
Actively monitors changes in texture and viscosity through motor torque feedback to optimize mixing performance. Over-mixing and undermixing fails are no longer a risk in recipes* that previously required intuition and experience, as an automatic shut-off feature will turn the mixer off when completion is reached (*Based on recipes available in app. Recipes will continue to be added and updated over time)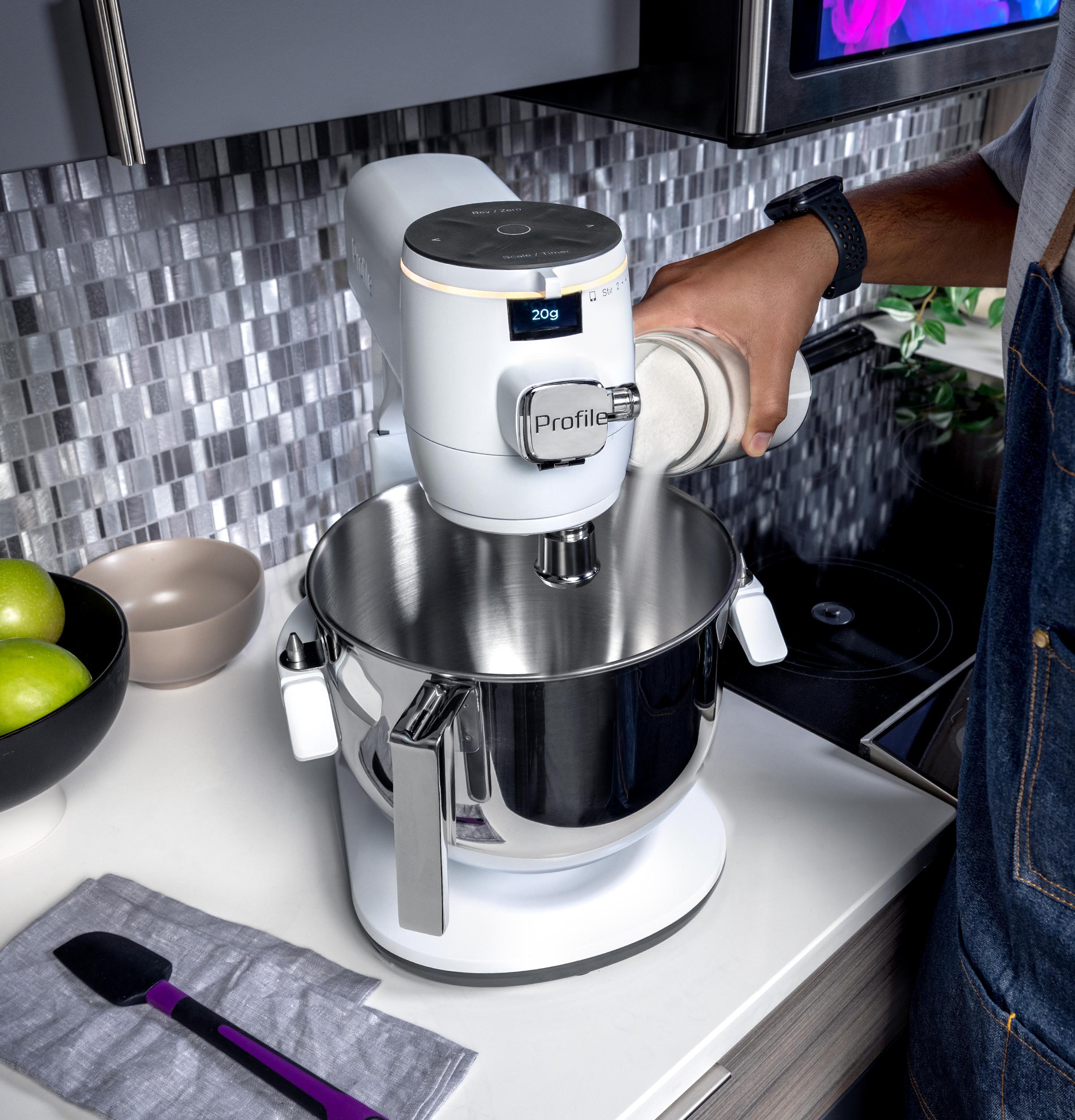 Built-In Smart Scale
Precisely weigh ingredients right in the mixing bowl or any other container to prepare every recipe with zero doubt.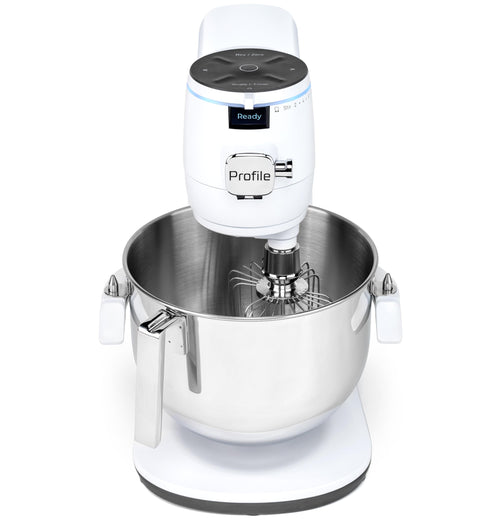 GE Profile Connect +
With over-the-air updates from GE Profile Connect +, you get new features like Guided Recipes as they become available, so the Smart Stand Mixer keeps getting better with time.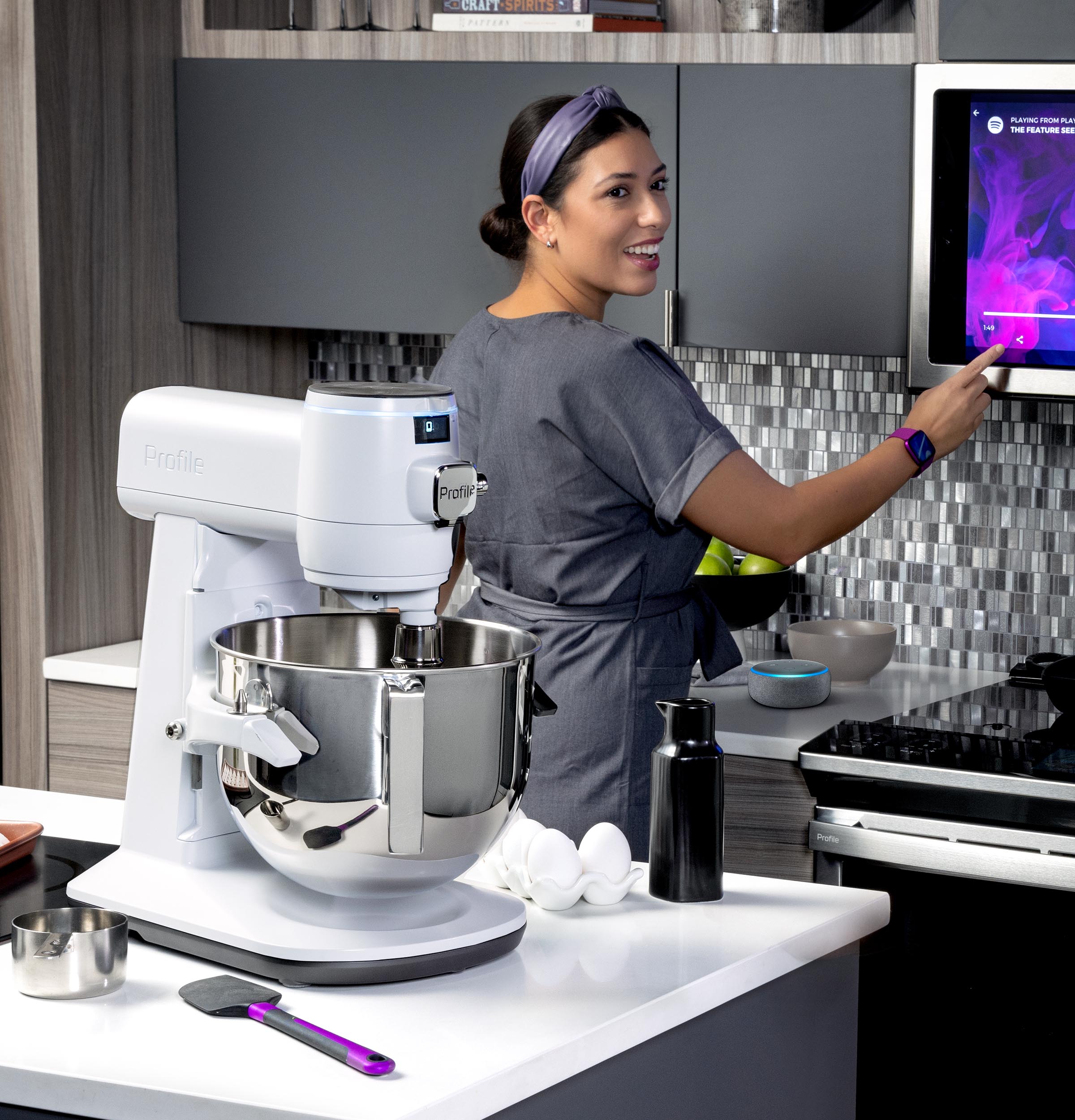 Voice Control with Alexa & Google Home
Connect the voice-activated Smart Stand Mixer to Alexa or Google Home and use voice commands for total control.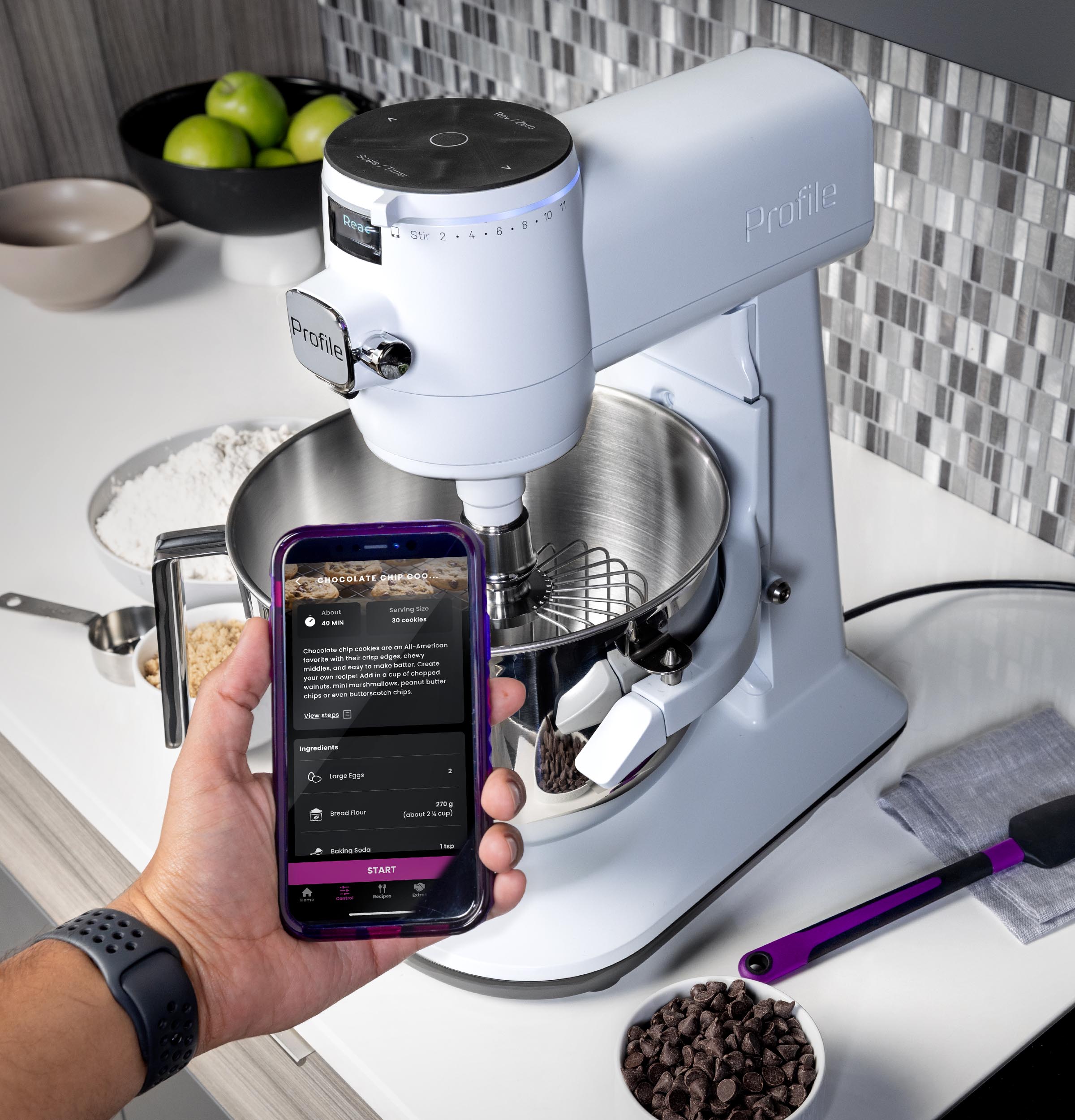 Guided Recipes
Eliminate guesswork and ensure the best possible results with step-by-step guided recipes connected to the Smart Stand Mixer, which take you through the whole process seamlessly.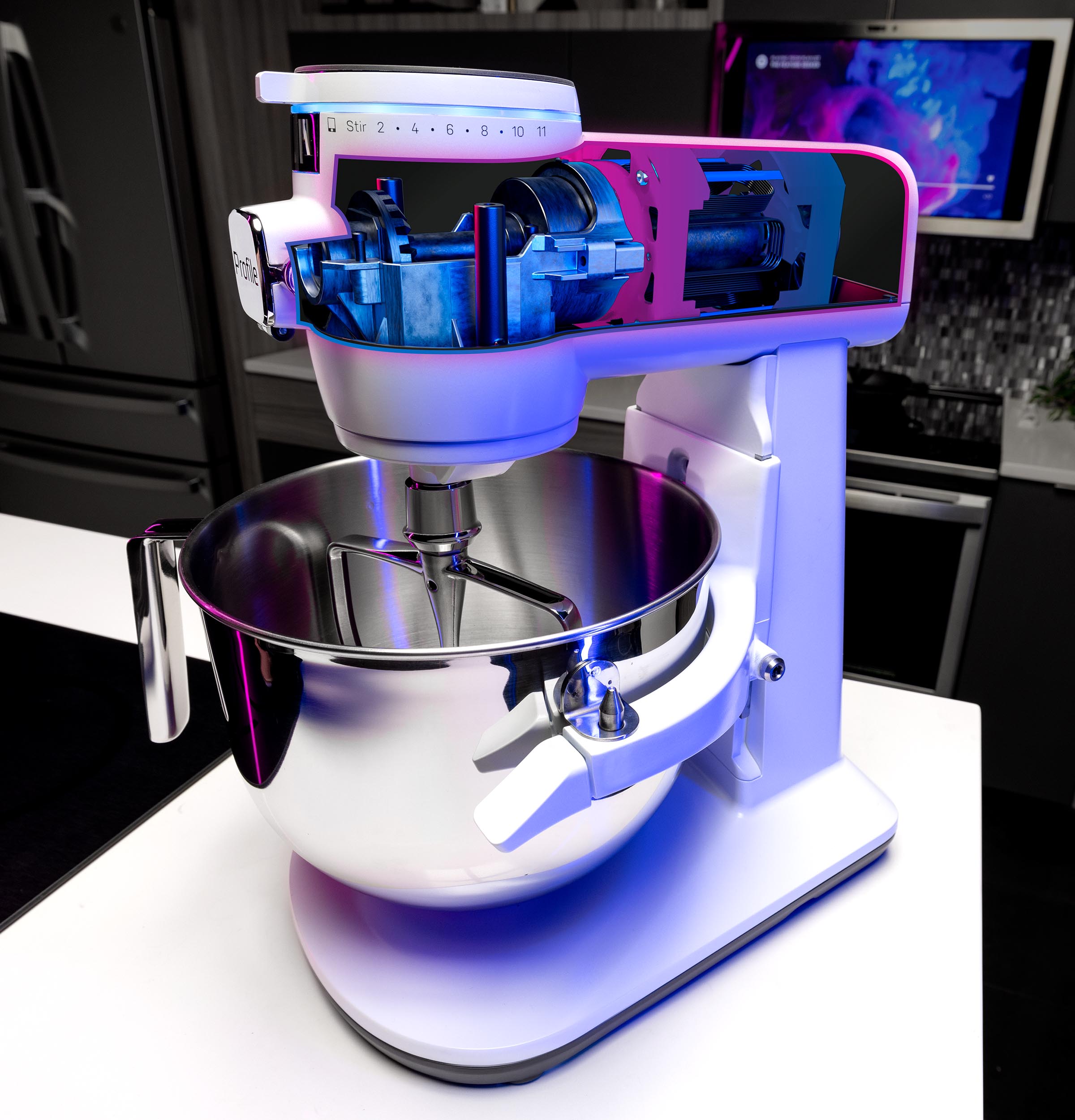 Advanced Digital Motor
The advanced digital brushless DC motor system is engineered to run at a low temperature for extended life and generate consistent high power to mix through the toughest batches without stalling.
| Feature | Description |
| --- | --- |
| Accessory Port | Works with third-party attachments |
| Auto Sense | Yes |
| Bowl Lift | Bowl lifts and locks into position |
| Built-In Smart Scale | Connected Built-In Smart Scale |
| Connected Capabilities | Amazon Alexa, Google Home |
| Control Type | Electronic Speed Control, OLED Display |
| Included Accessories | 7 qt stainless steel bowl, Commercial grade 11-wire whip, Commercial grade stainless beater, Commercial grade stainless dough hook, Pouring shield |
| Settings (.) | Stir to 11 |
| Type | Countertop - Indoor |
| WiFi Connect | Built-In |
| Feature | Description |
| --- | --- |
| Color Appearance | Stone White |
| Feature | Description |
| --- | --- |
| Capacity | 7 qt bowl |
| Feature | Description |
| --- | --- |
| Approximate Shipping Weight | 48 inches |
| Net Weight | 44 inches |
| Overall Depth | 14 inches |
| Overall Height | 17.07 inches |
| Overall Width | 11.33 inches |
| Feature | Description |
| --- | --- |
| Electrical Requirements | 120V, 60Hz |
| Watts | 540 |
| Feature | Description |
| --- | --- |
| Parts Warranty | Limited 1-year entire appliance |