GE Profile™ Semi Automatic Espresso Machine + Frother
$659.00
$399.00
FREE SHIPPING!!!
* Free Shipping on Small Appliances orders only.
FEATURES Temperature Control Double PID Control Hot Water Function Yes Grinder Type Burr, precision, SS, Easy to Clean Memory Settings Water memory and grind amount for single grind amount, Additional settings available (on App) Tamper Storage Place on top of the unit Boiler Type Thermoblock Heating External Drip Tray Capacity...
• Own this product? See Maintenance & Care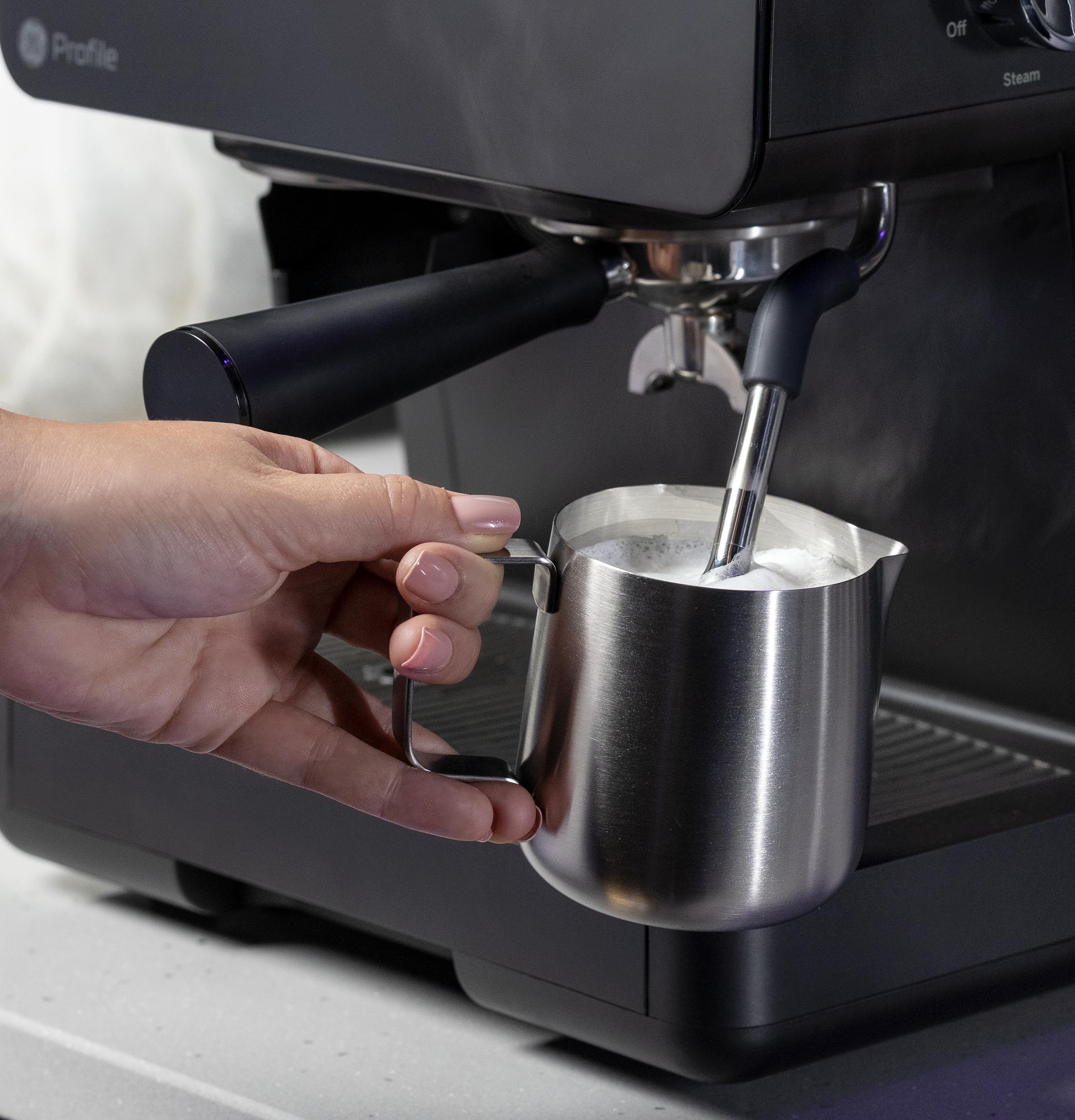 Steam Frother
Get a variety of microfoam textures and thicknesses for lattes, flat whites, cappuccinos and more with a built-in steam wand that rotates in a 180- degree motion for control and convenience.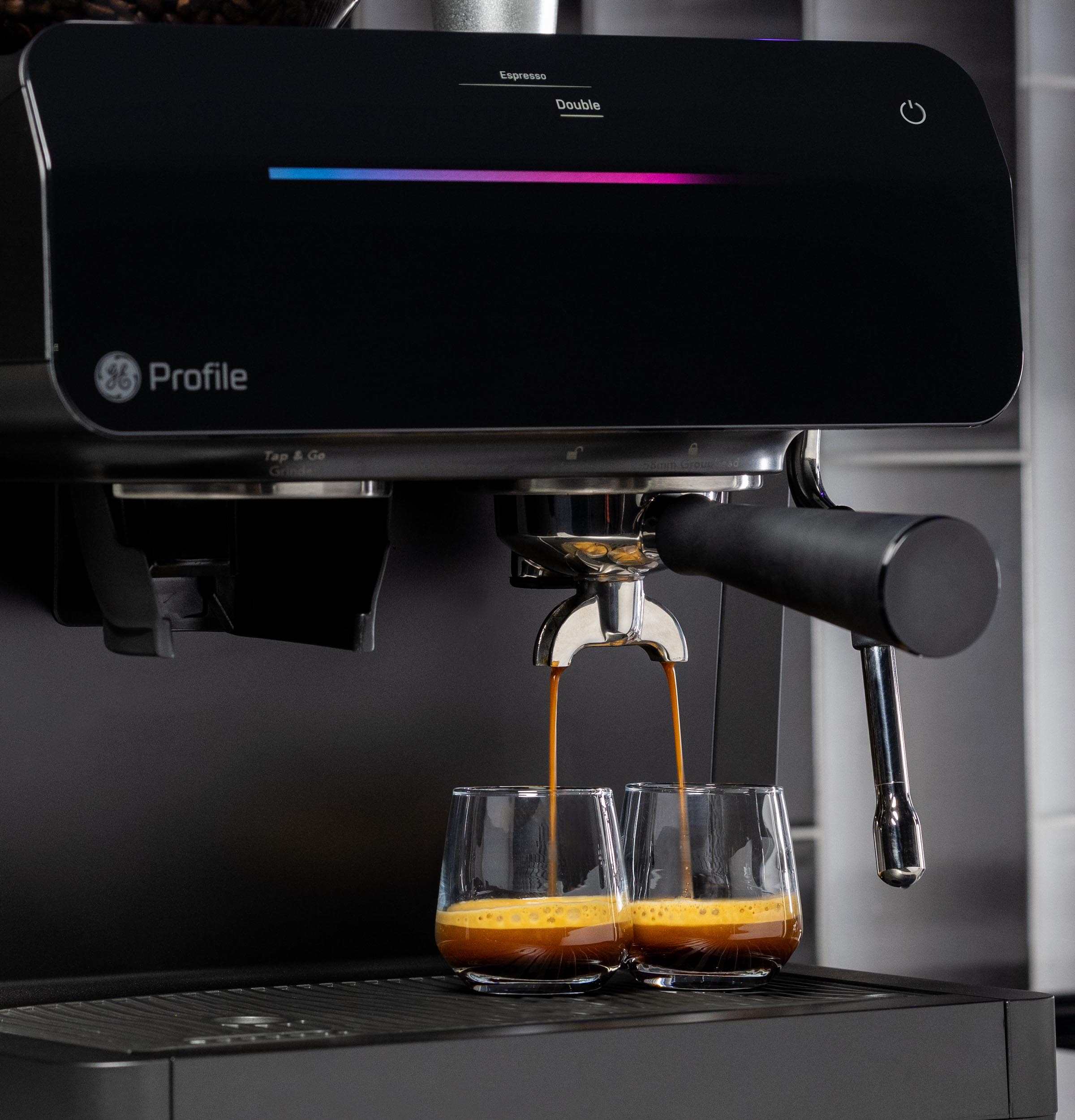 Italian Made, 15 Bar Pump
Get a balanced cup of espresso with each use thanks to an Italian made, 15 bar pump that slowly increases its pump rated pressure to draw out flavors.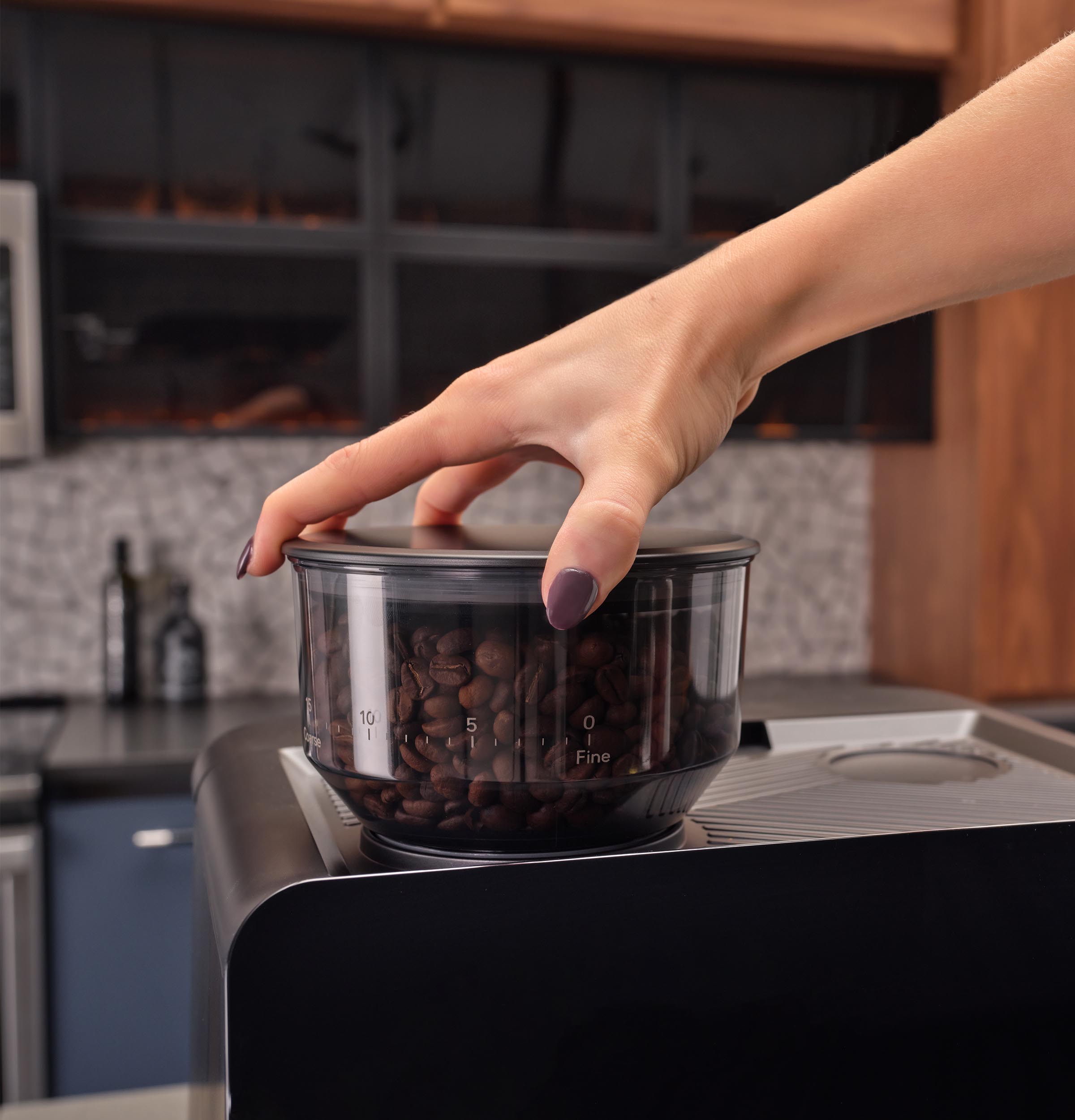 Built-In Conical Burr Grinder & Adjustable Grind Size
The stainless steel conical burr grinder delivers an exact amount of fresh grounds directly into the portafilter, and with 15 grind levels, it provides the ability to dial up a perfect shot.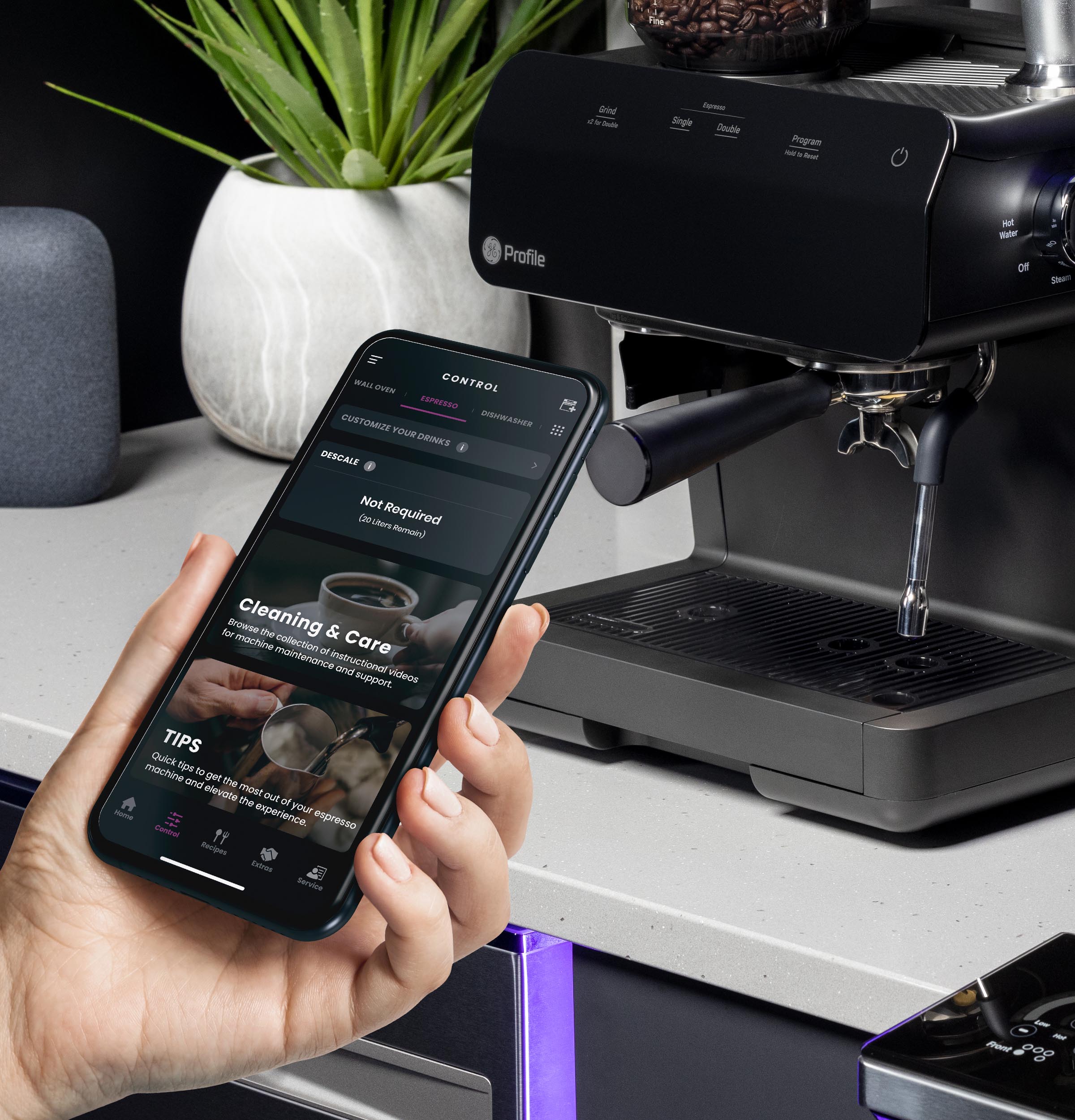 WiFi Connected with Drink Customization Technology
Equip your kitchen with a smart espresso machine that syncs with the SmartHQ app, allowing users to customize drink preferences by volume and strength, while also enabling software updates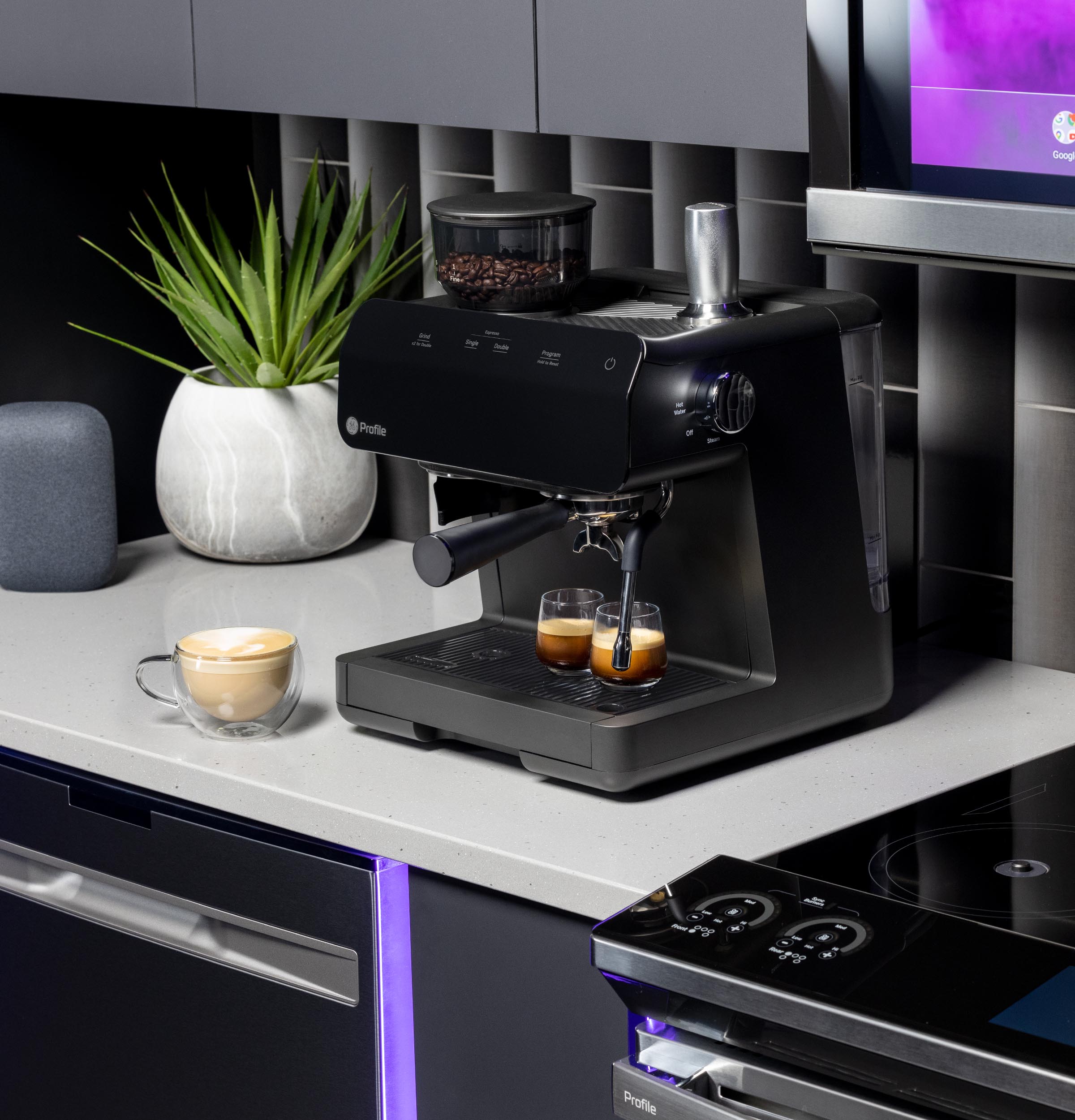 Modern Design
This contemporary espresso machine has a sleek appearance to match its high tech functions, including a striking LED notification bar that illuminates while active or for notifications.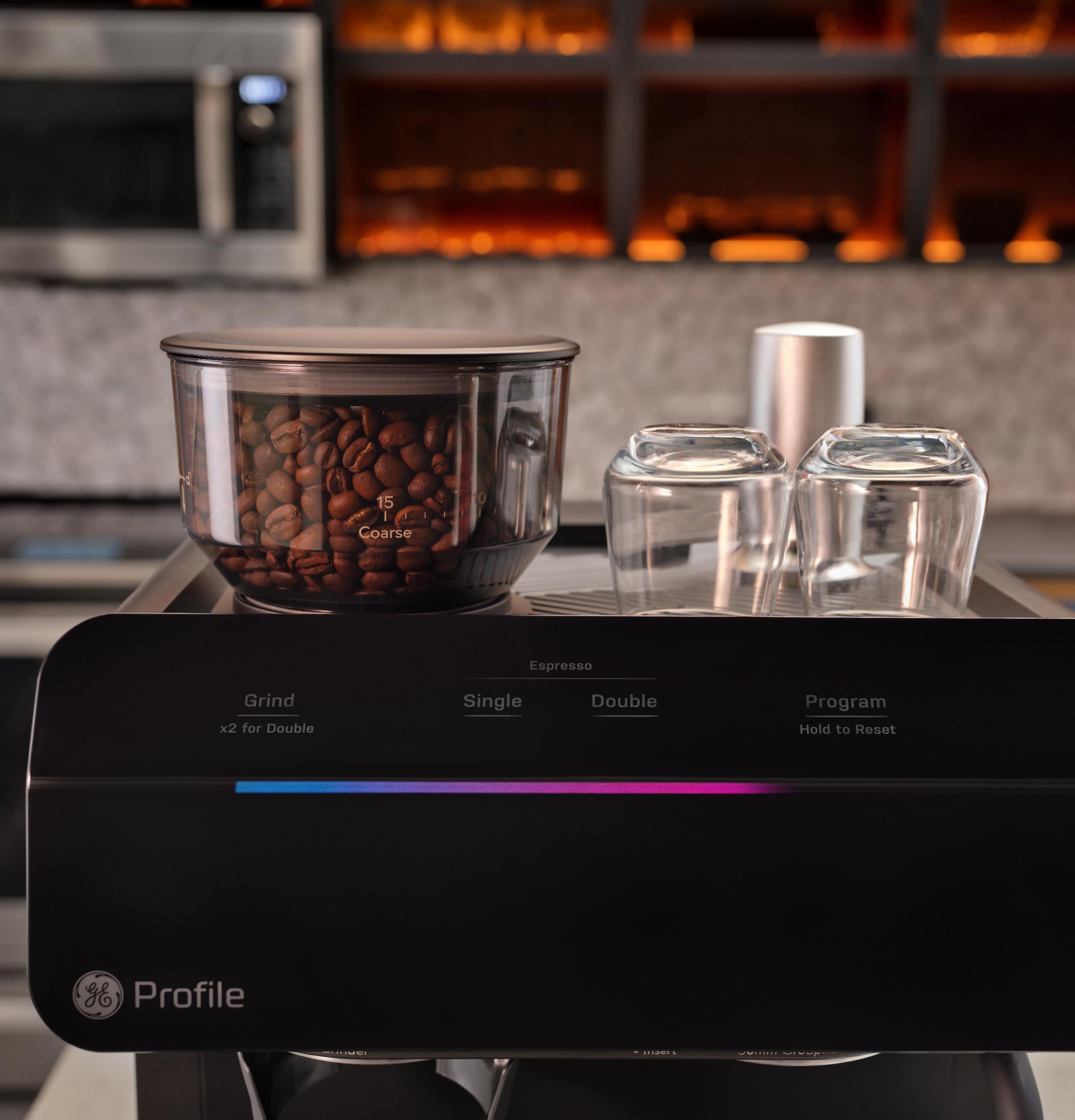 Cup-Warming Tray
This espresso machine comes equipped with a cup-warming grill located at the top of the machine to maintain the temperature and quality of each shot.
| Feature | Description |
| --- | --- |
| Adjustable Grinder | 15 Settings |
| Auto Shutoff | Default of 20 min Timeout |
| Bean Capacity (Hopper) | 275g = 10 Oz |
| Boiler Type | Thermoblock Heating |
| Coffee Dispensing Amount | Default Volume: 1cup:15-50ml, 2 cups: 45-90ml |
| Control Features | LED Panel with Cap touch keys, One touch keys for Single/Double grind, Single/Double Espresso, Steam, Hot Water |
| De-Scaling | Yes |
| Electrostatic System to prevent Powder splashing | Ion Generator |
| External Drip Tray Capacity | 1.0 L |
| Grinder Type | Burr, precision, SS, Easy to Clean |
| Heating Element | 230V/1300W(+5% -10%) |
| Hot Water Function | Yes |
| Integrated Grind Systems | Yes |
| LED Alerts | Clean, Add Water, Grinder |
| Memory Settings | Water memory and grind amount for single grind amount, Additional settings available (on App) |
| Preheating Time | <=80 seconds |
| Pump Pressure | 15 Bar |
| Removable Drip Tray | Yes |
| Steam Function | Yes |
| Tamper Storage | Place on top of the unit |
| Temperature Control | Double PID Control |
| Type | Countertop - Indoor |
| Volumetric Control | Yes |
| Water Reservoir | 2.8L, Removable |
| WiFi Connect | Built-In |
| Feature | Description |
| --- | --- |
| Color Appearance | Black |
| Installation | Free-Standing |
| Feature | Description |
| --- | --- |
| Approximate Shipping Weight | 24.5 inches |
| Back Air Clearances | 2 inches |
| Net Weight | 14.8 inches |
| Overall Depth | 12.7 inches |
| Overall Height | 16.1 inches |
| Overall Width | 13.7 inches |
| Side Air Clearance | 0 inches |
| Top Air Clearances | 10 inches |
| Feature | Description |
| --- | --- |
| Electrical Requirements | 120V ; 60 Hz ; 1450W |
| Feature | Description |
| --- | --- |
| Parts Warranty | 1 year, Return to vendor |