Café™ AFFETTO Automatic Espresso Machine + Frother
$709.00
$379.00
FREE SHIPPING!!!
* Free Shipping on Small Appliances orders only.
FEATURES Temperature Control NTC Boiler PD Temp control Hot Water Function Yes; Tea Control Type Cap Touch Controls, Electronic Grinder Type Burr, precision, SS Memory Settings Water memory and grind amount for single grind amount, Additional settings available (on App) Boiler Type Thermoblock Heating External Drip Tray Capacity 11 oz...
• Own this product? See Maintenance & Care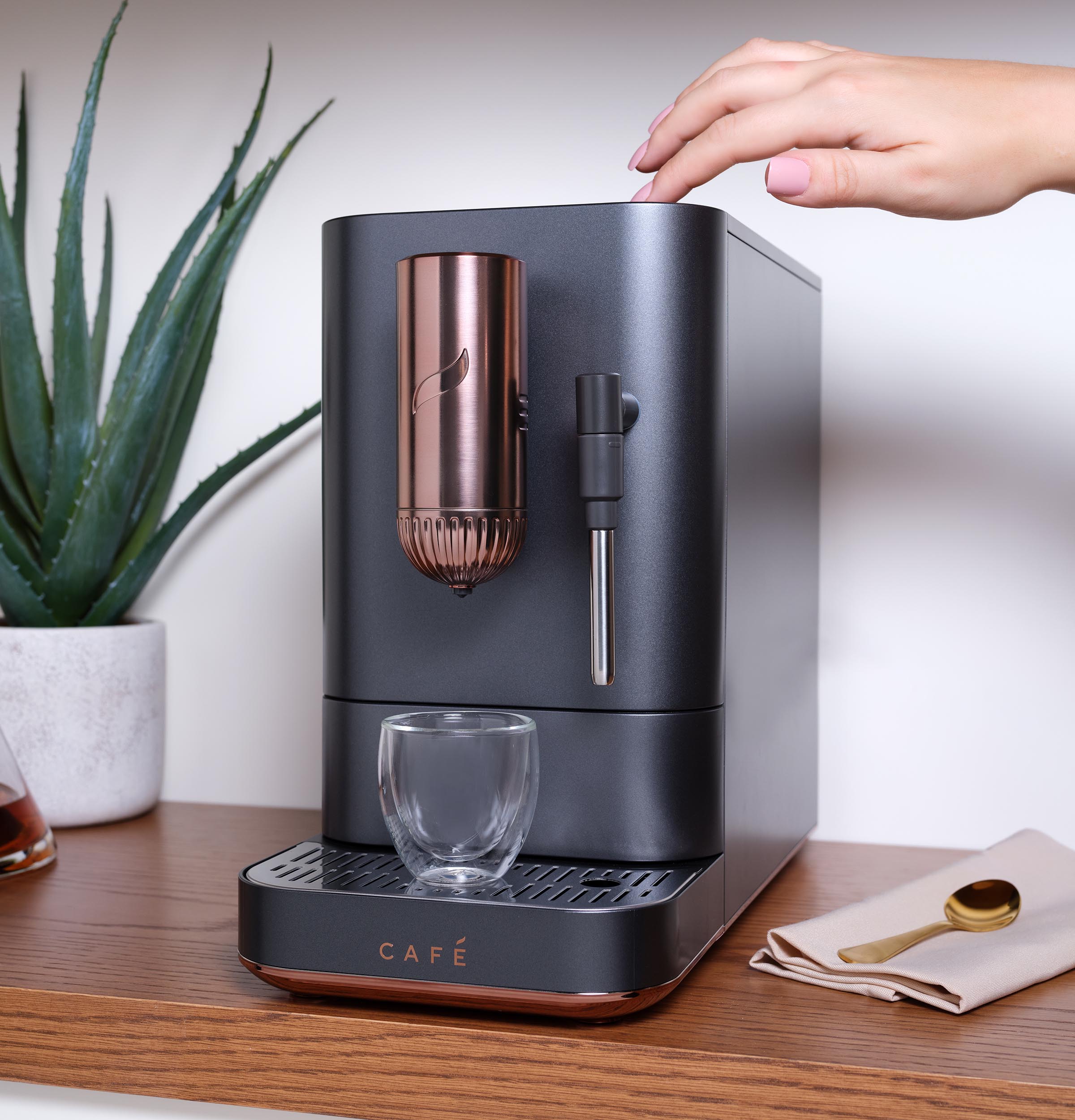 One Touch Brew
With a single press of a button and in less than 90 seconds, this automatic espresso machine dispenses Espresso, Americano, My Cup or Hot Water. My Cup is set to ristretto and can be adjusted to a favorite espresso recipe via the SmartHQ app.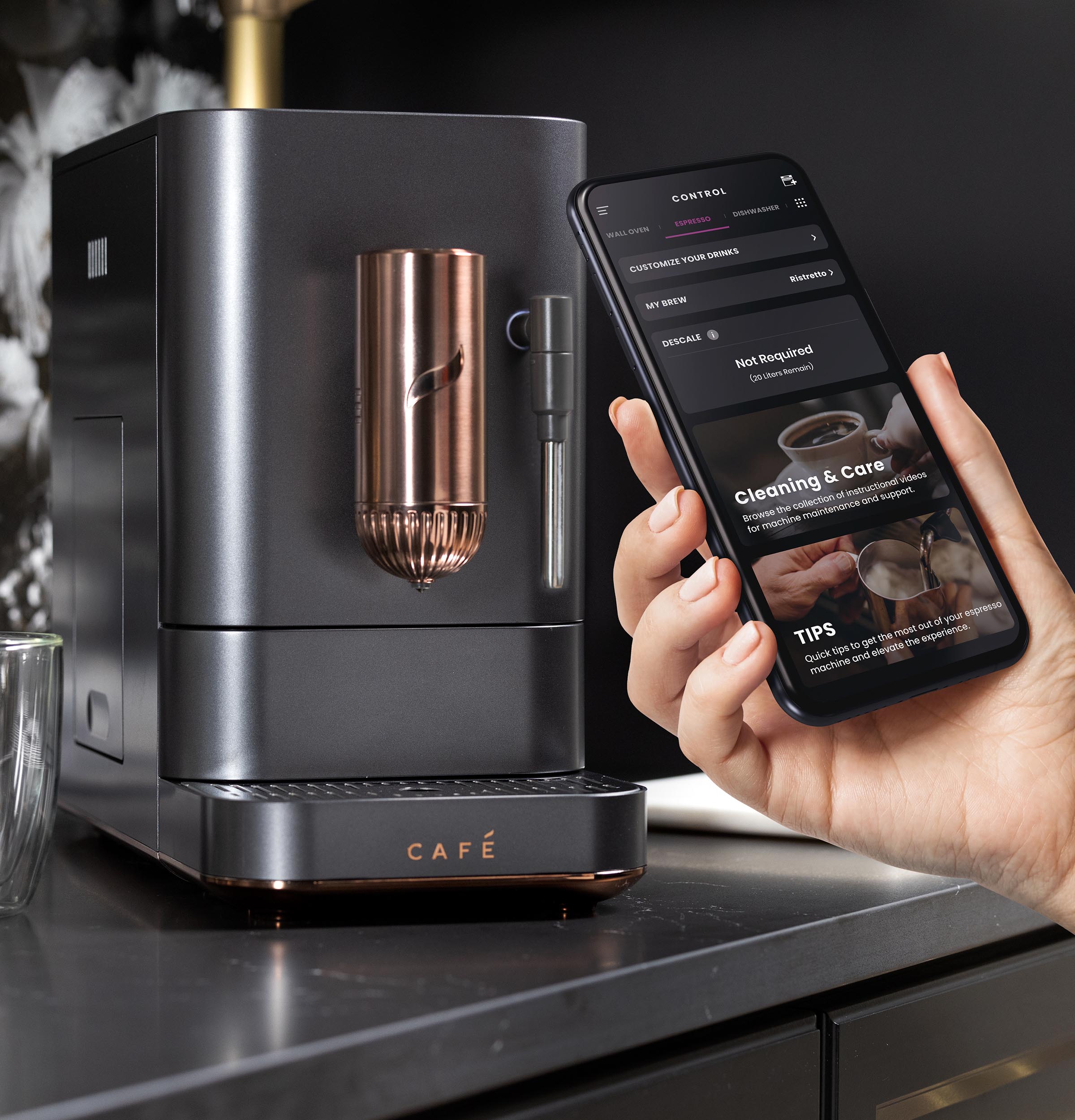 WiFi Connected with Drink Customization Technology
Equip your kitchen with a smart espresso machine that syncs with the SmartHQ app, allowing users to customize drink preferences by volume and strength, while also enabling software updates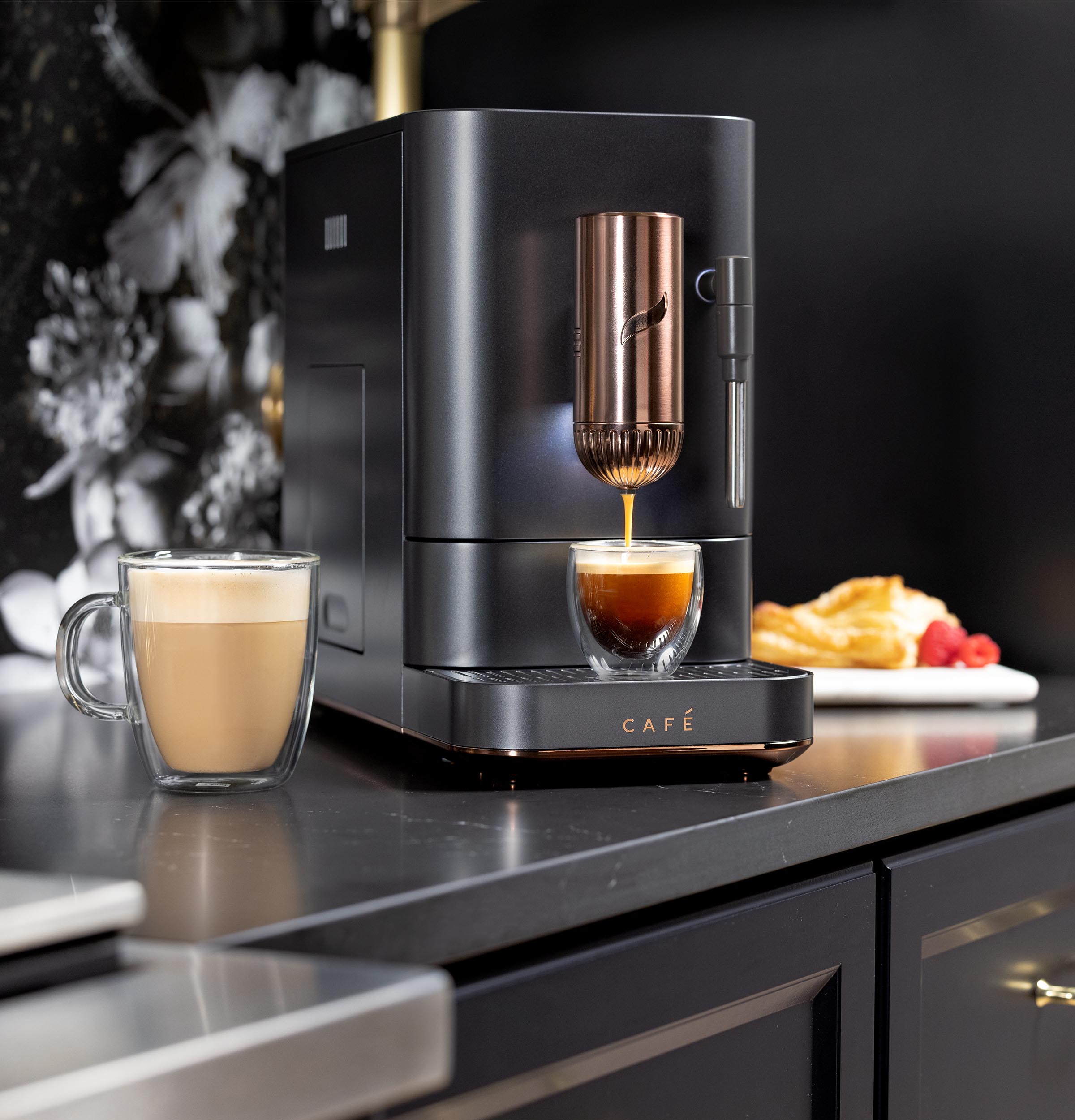 Built-In Conical Burr Grinder & Adjustable Grind Size
The stainless steel conical burr grinder delivers a consistent grind with any bean roast. Plus, you can control your grind size with 5 levels ranging from coarsest to finest for ideal taste and aroma extraction.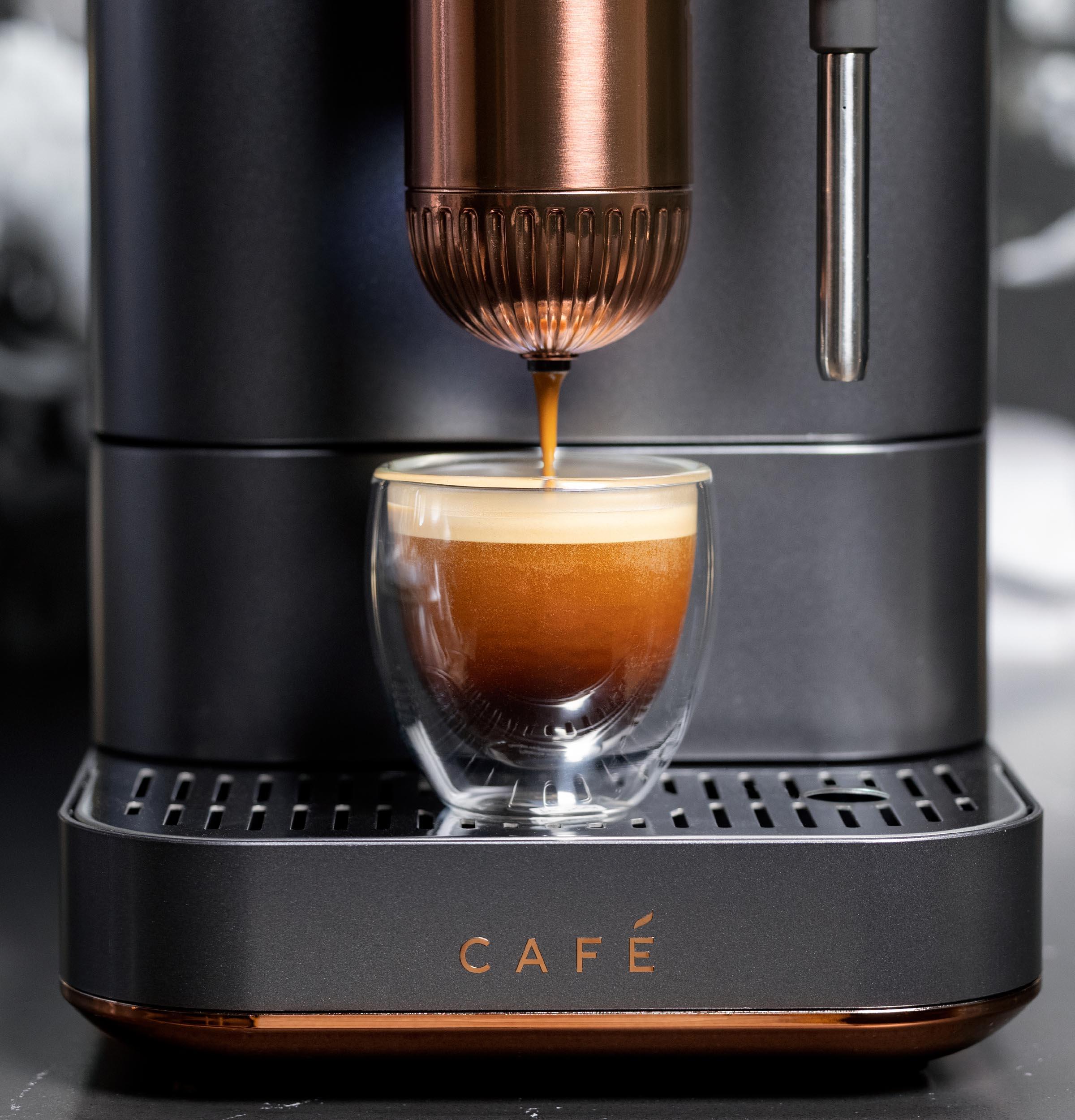 Balanced Extraction
Beans are pre-infused with low pressure to gently bloom optimal flavor profiles and gradually increased toA 20 bars of high rated pump pressureA to ensure even extraction for a balanced tasting cup.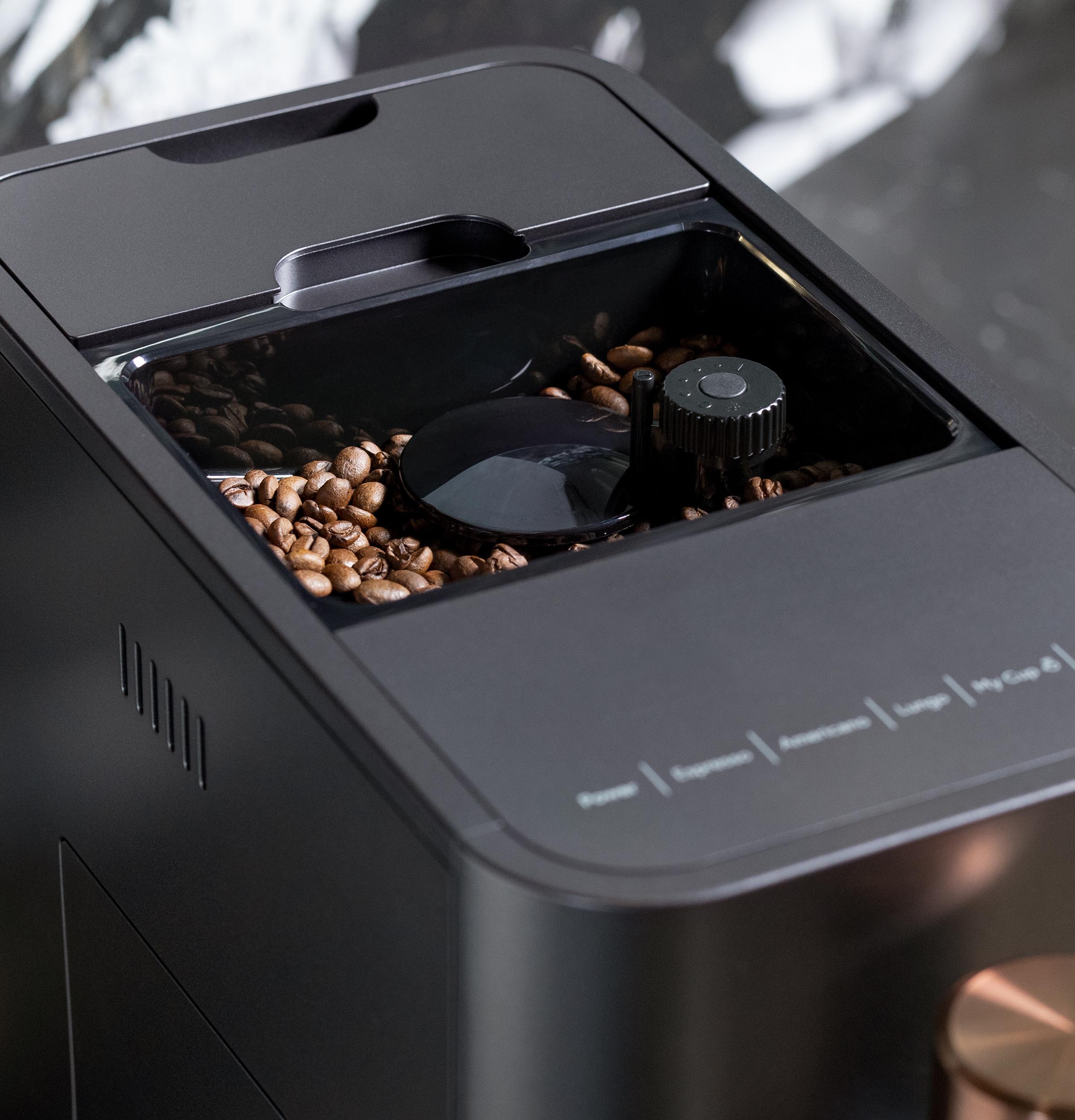 Built-In Bean Hopper
Keep beans fresh with sealed bean storage that holds over 180 grams/6 ounces.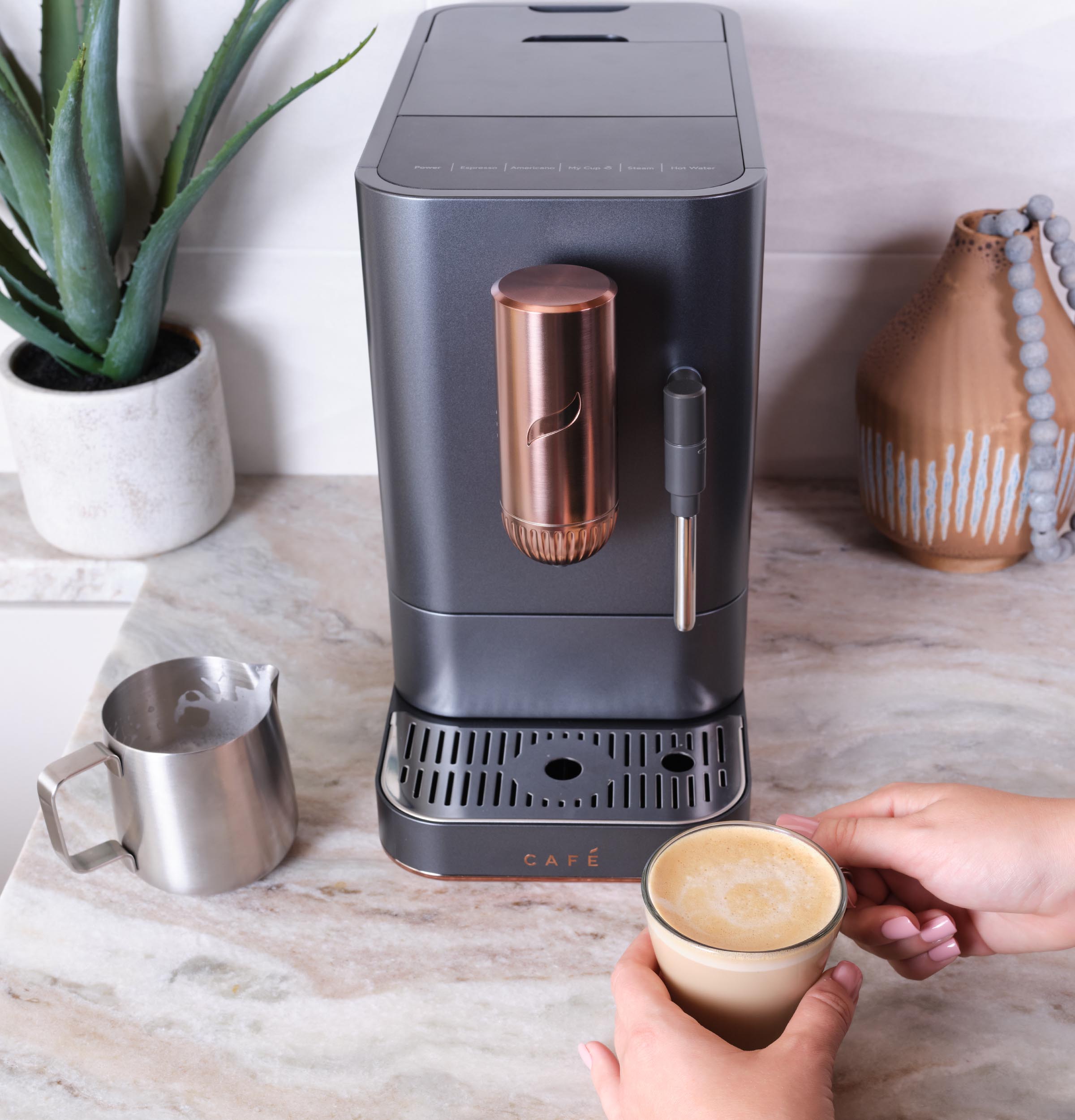 Compact, Modern Design
This compact espresso machine has a 7" wide footprint and is adorned with signature copper accents, adding style and sophistication to any countertop.
| Feature | Description |
| --- | --- |
| Adjustable Grinder | 5 Settings |
| Adjustable Spout Height | Yes |
| Auto Shutoff | Yes |
| Bean Capacity (Hopper) | 184g = 6.5 Oz |
| Boiler Type | Thermoblock Heating |
| Control Features | LED Panel with Cap touch keys, One touch keys for Espresso, Americano, My Cup, Hot Water and Steam |
| Control Type | Cap Touch Controls, Electronic |
| De-Scaling | Rinsing, Yes |
| Disposal Box Capacity | 14 oz |
| External Drip Tray Capacity | 11 oz |
| Grinder Type | Burr, precision, SS |
| Hot Water Function | Yes; Tea |
| Illumination | One LED under/behind the spouts |
| Integrated Grind Systems | Yes |
| Internal Drip Tray Capacity | 9 oz |
| LED Alerts | Refill Water Tank, Refill/Stir Bean Container, Check brewer, Descaling is needed/on-going, Rinsing |
| Memory Settings | Water memory and grind amount for single grind amount, Additional settings available (on App) |
| Preheating Time | > 90 seconds |
| Pump Pressure | 20 Bar |
| Removable Drip Tray | Yes |
| Steam Wand | Yes |
| Temperature Control | NTC Boiler PD Temp control |
| Type | Countertop - Indoor |
| Volumetric Control | Yes |
| Water Reservoir | 1.2 Liter = 40.5 Oz, Removable |
| WiFi Connect | Built-In |
| Feature | Description |
| --- | --- |
| Color Appearance | Matte Black |
| Installation | Free-Standing |
| Feature | Description |
| --- | --- |
| Approximate Shipping Weight | 23.7 inches |
| Back Air Clearances | 2 inches |
| Net Weight | 18.8 inches |
| Overall Depth | 16.1 inches |
| Overall Height | 12.48 inches |
| Overall Width | 7.09 inches |
| Side Air Clearance | 0 inches |
| Top Air Clearances | 10 inches |
| Feature | Description |
| --- | --- |
| Electrical Requirements | 120V ; 60 Hz ; 1235-1470W |
| Feature | Description |
| --- | --- |
| Parts Warranty | 1 year |