Café™ 30" Touch-Control Electric Cooktop
FEATURES Filler trim kit JXTR32B Cooktop Burner Type 5 Ribbon, Smoothtop Melt Setting Yes Fuel Type Electric Element - Left Front 7" 1500W Indicator Lights 5 Hot Surface, Red, Surface Element "ON" Element - Right Front 8"/5" 2200W Dual Control Location Front Center Cooktop Type Radiant Smoothtop Cooktop Surface Cooktop...
• Own this product? See Maintenance & Care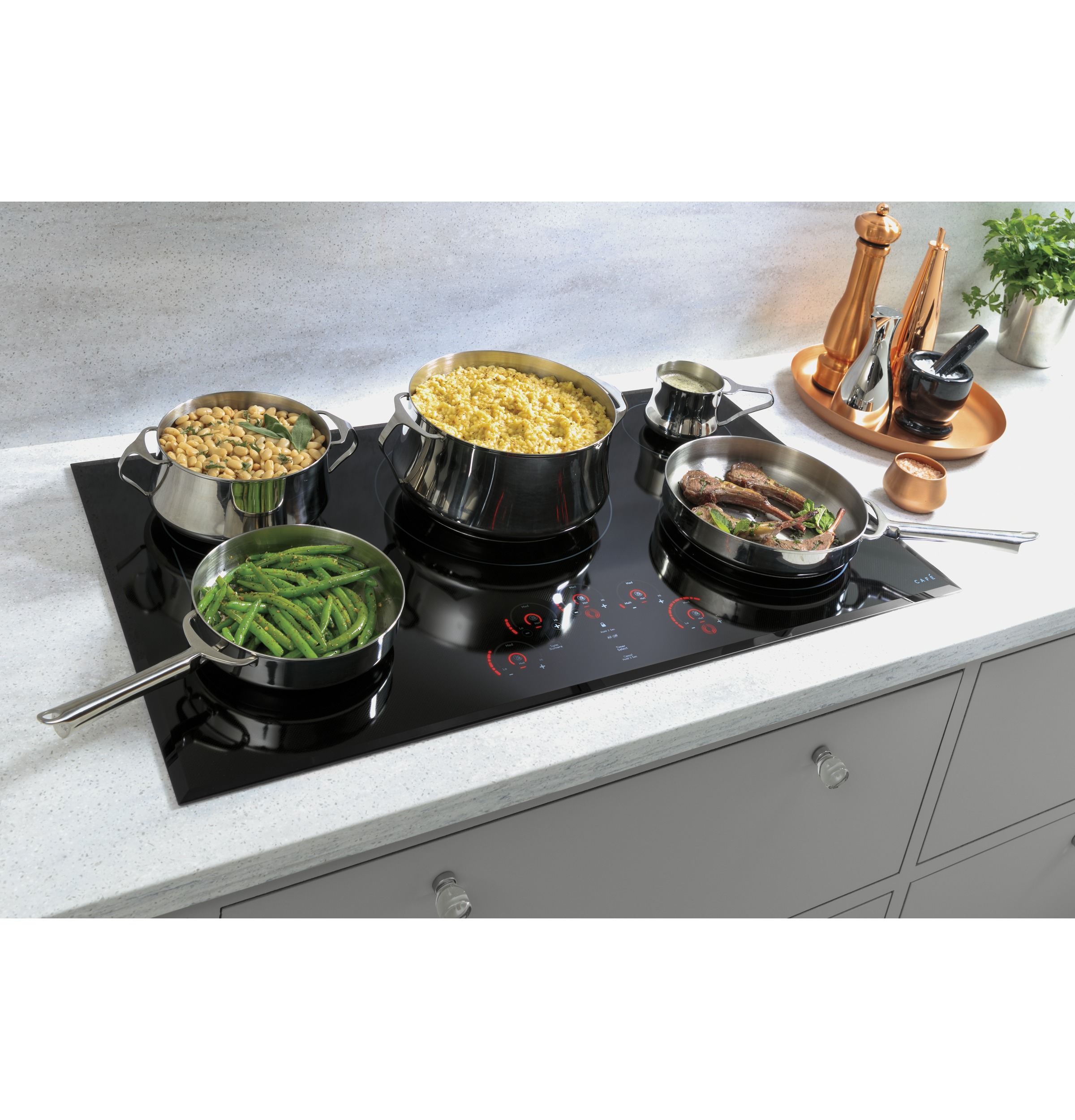 Cook more food. Entertain more possibilities.
Prepare more at the same time with five radiant cooking elements that deliver rapid, consistent heat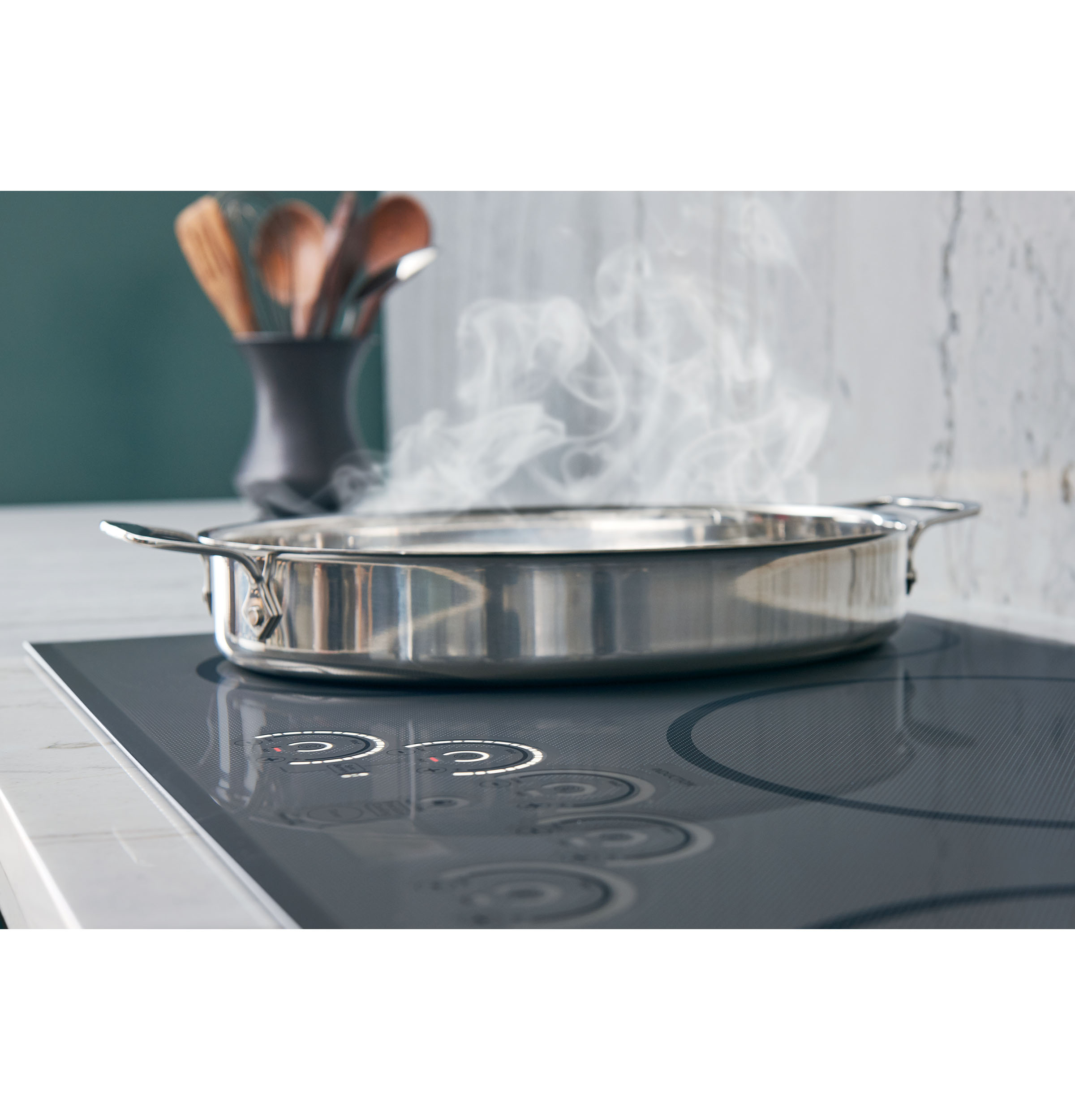 More heat for more space
Evenly heat large cookware like griddles or dutch ovens by controlling two 7" synchronized elements with just the touch of a button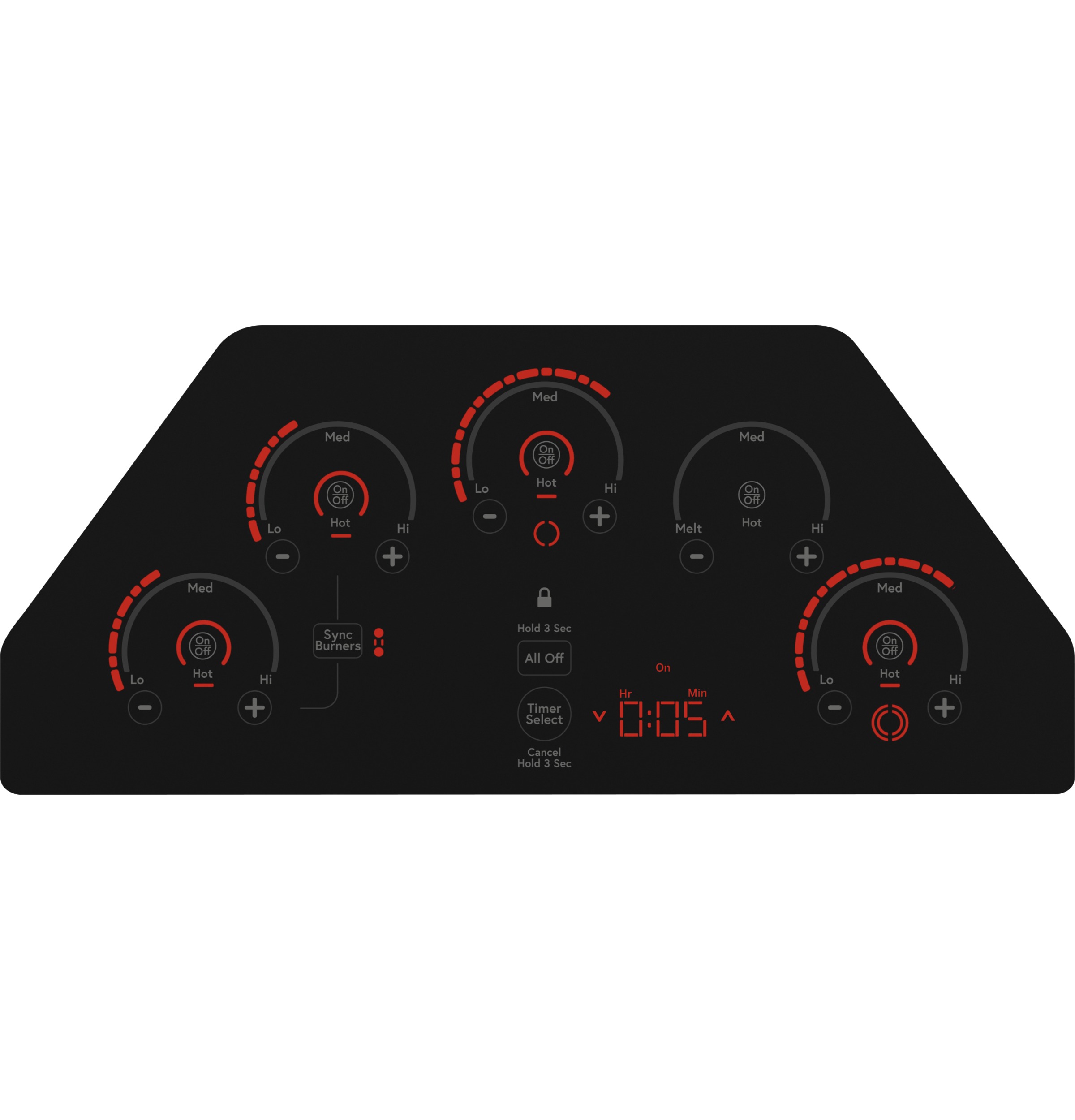 Control at your fingertips
Make your cooking process as impressive as the food itself, with touch controls that let you control heat with just one swipe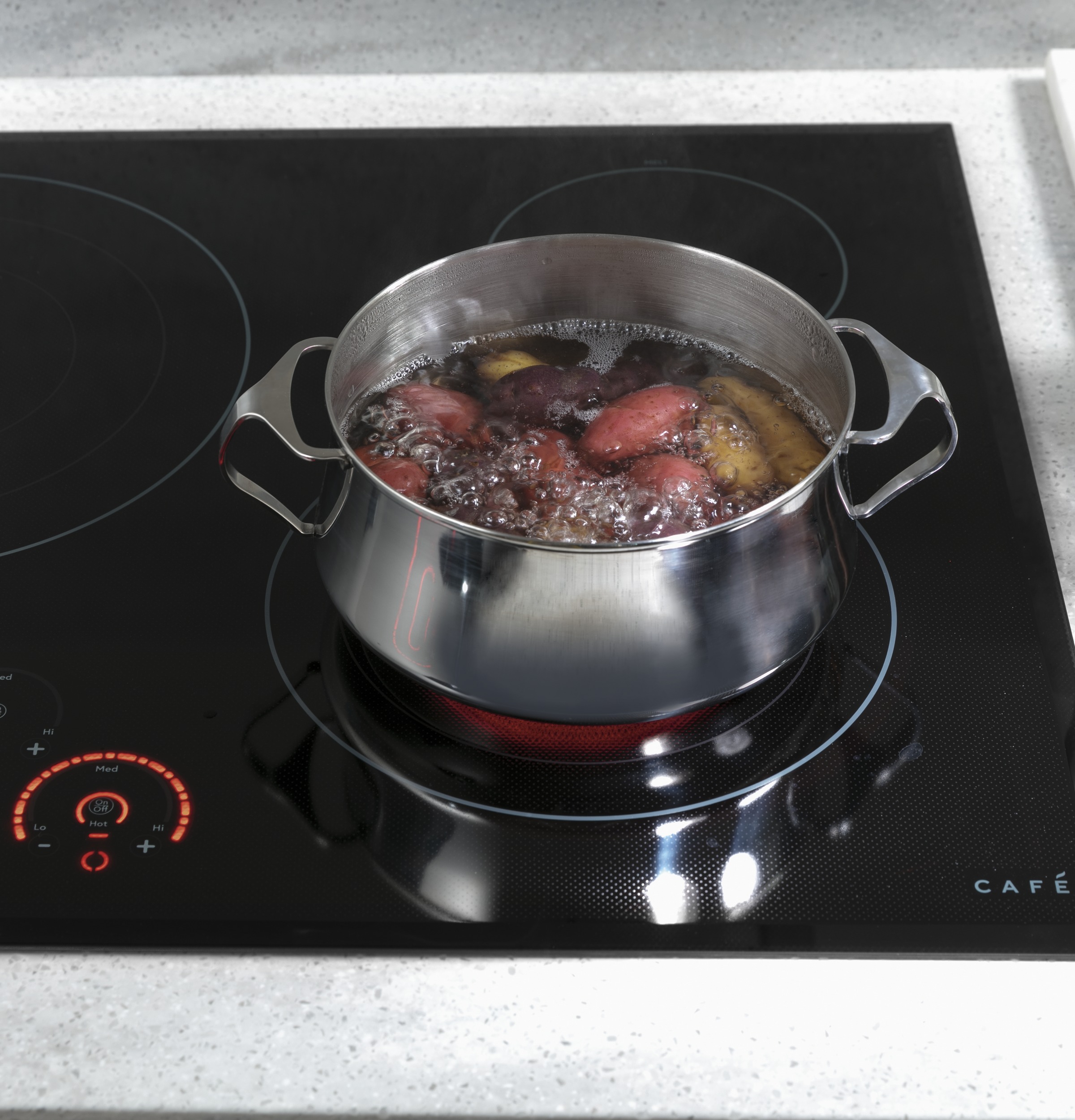 The perfect match for pots and pans of all sizes
Tailor your burner size to your cookware with an 9"/7"/5" element that''s powerful enough to boil water quickly
Guaranteed to fit your space
When youaEURtmre updating your kitchen, attention to detail is a priority. ThataEURtms why CafA(c) cooktops are guaranteed for an exact fit or CafA(c) Appliances will pay up to $100 toward modifications.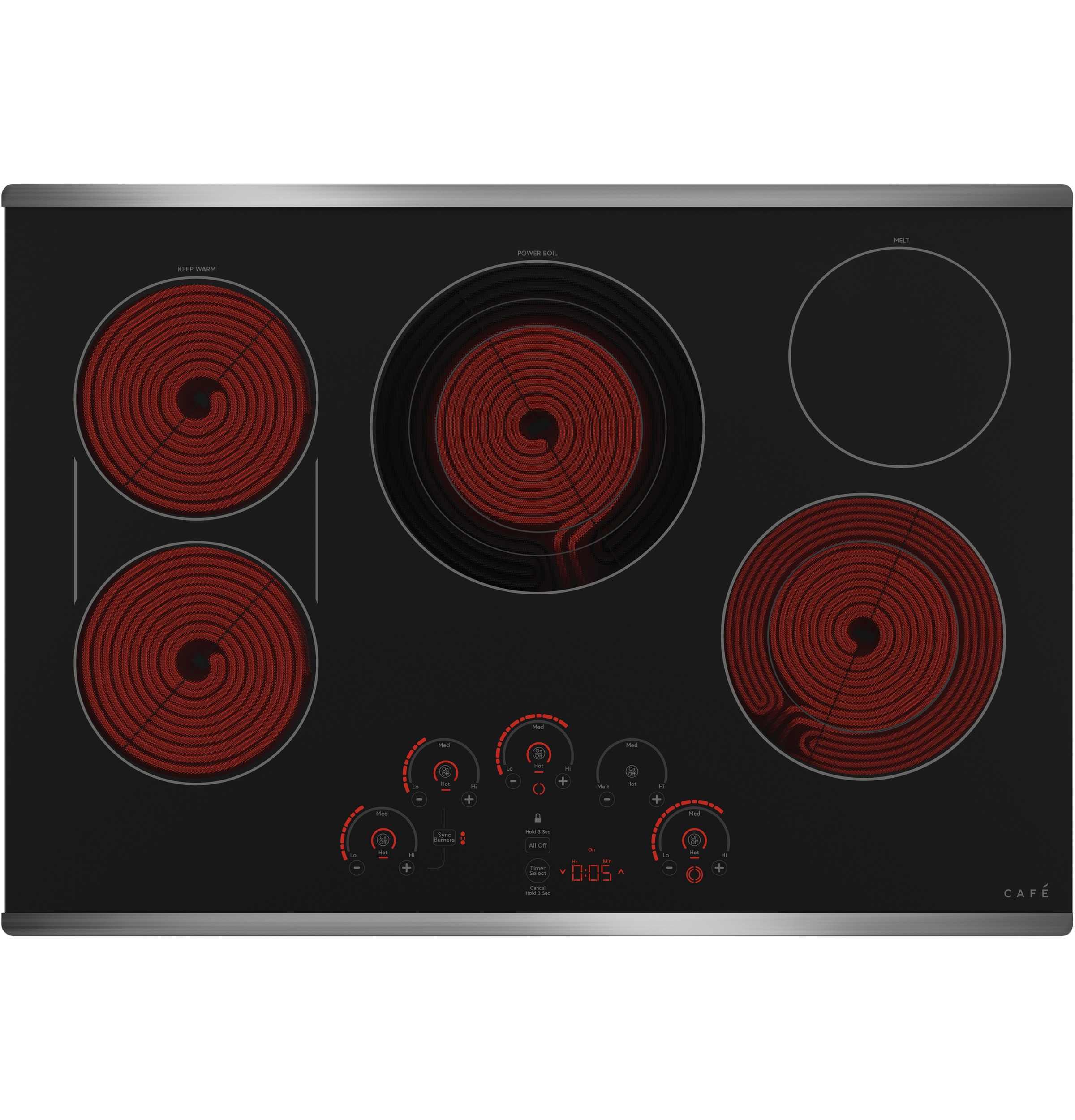 Flexible burner sizes add more function
Tailor your burner size to your cookware with an 8"/5" dual element
| Feature | Description |
| --- | --- |
| Control Location | Front Center |
| Control Type | Glass Touch |
| Cooktop Burner Type | 5 Ribbon, Smoothtop |
| Cooktop Control Features | All-Off Control, Control Lock Capability, Custom Settings, Keep-Warm Setting, Melt Setting, Multi-element timer, Sync-Burners Capability |
| Cooktop Type | Radiant Smoothtop |
| Element - Center | 9"/7"/5" 3000W Power Boil |
| Element - Left Front | 7" 1500W |
| Element - Left Rear | 7" 1500W |
| Element - Right Front | 8"/5" 2200W Dual |
| Element - Right Rear | 6" 1200W |
| Filler trim kit | JXTR32B |
| Fuel Type | Electric |
| Griddle | Included |
| Indicator Lights | 5 Hot Surface, Red, Surface Element "ON" |
| Melt Setting | Yes |
| Product Type | Cooktop |
| Feature | Description |
| --- | --- |
| Color Appearance | Stainless Steel |
| Frameless | Yes |
| Feature | Description |
| --- | --- |
| Approximate Shipping Weight | 46 inches |
| Cabinet Width | 30.0 inches |
| Cooktop Size | 30 inches |
| Cutout Dimensions (Width x Depth) (In.) | 28 inches |
| Net Weight | 40 inches |
| Overall Depth | 21.5 inches |
| Overall Height | 3.38 inches |
| Overall Width | 29.88 inches |
| Feature | Description |
| --- | --- |
| Max. Connected Load (kW) at 208V | 7.1 |
| Max. Connected Load (kW) at 240V | 9.4 |
| Max. Current Draw (Amps) at 208V | 33.9 |
| Max. Current Draw (Amps) at 240V | 39.2 |
| Recommended Circuit Breaker (Amps) at 208V | 40 |
| Recommended Circuit Breaker (Amps) at 240V | 40 |
| Feature | Description |
| --- | --- |
| Labor Warranty | Limited 1-year entire appliance |
| Parts Warranty | Limited 1-year entire appliance |
| Warranty Notes | See written warranty for full details |