GE® 3/4 HP Continuous Feed Garbage Disposer - Non-Corded
FEATURES Precutter Material Stainless Steel Motor Horsepower 3/4 hp Hopper (grind chamber) material Glass Reinforced Nylon Armature Shaft Material Cold-Rolled Carbon Steel Feed Type Continuous Grinding Speed (RPM) 2700 RPM''s Mounting Type EZ Mount Control Type Wall Switch Disposer Features 2 Level Precutter, Drain Connector, Drain Elbow, DrainPurge Technology, Manual...
• Own this product? See Maintenance & Care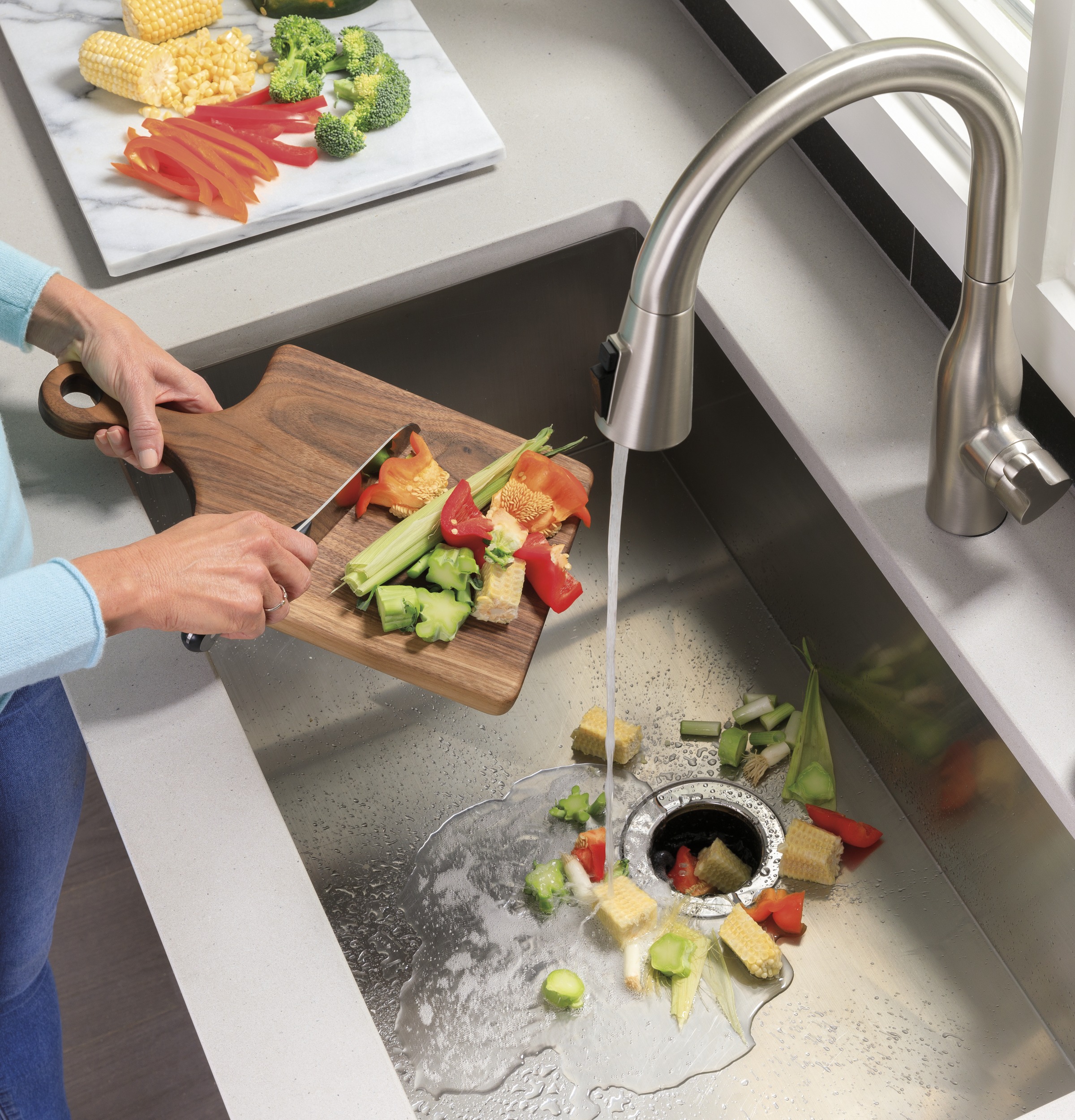 3/4 HP Motor
A powerful 3/4 HP garbage disposal quickly reaches its maximum spin speed, so it can grind hard food faster without jamming or clogging. This is the recommended high-speed disposal for a family of 2-4 people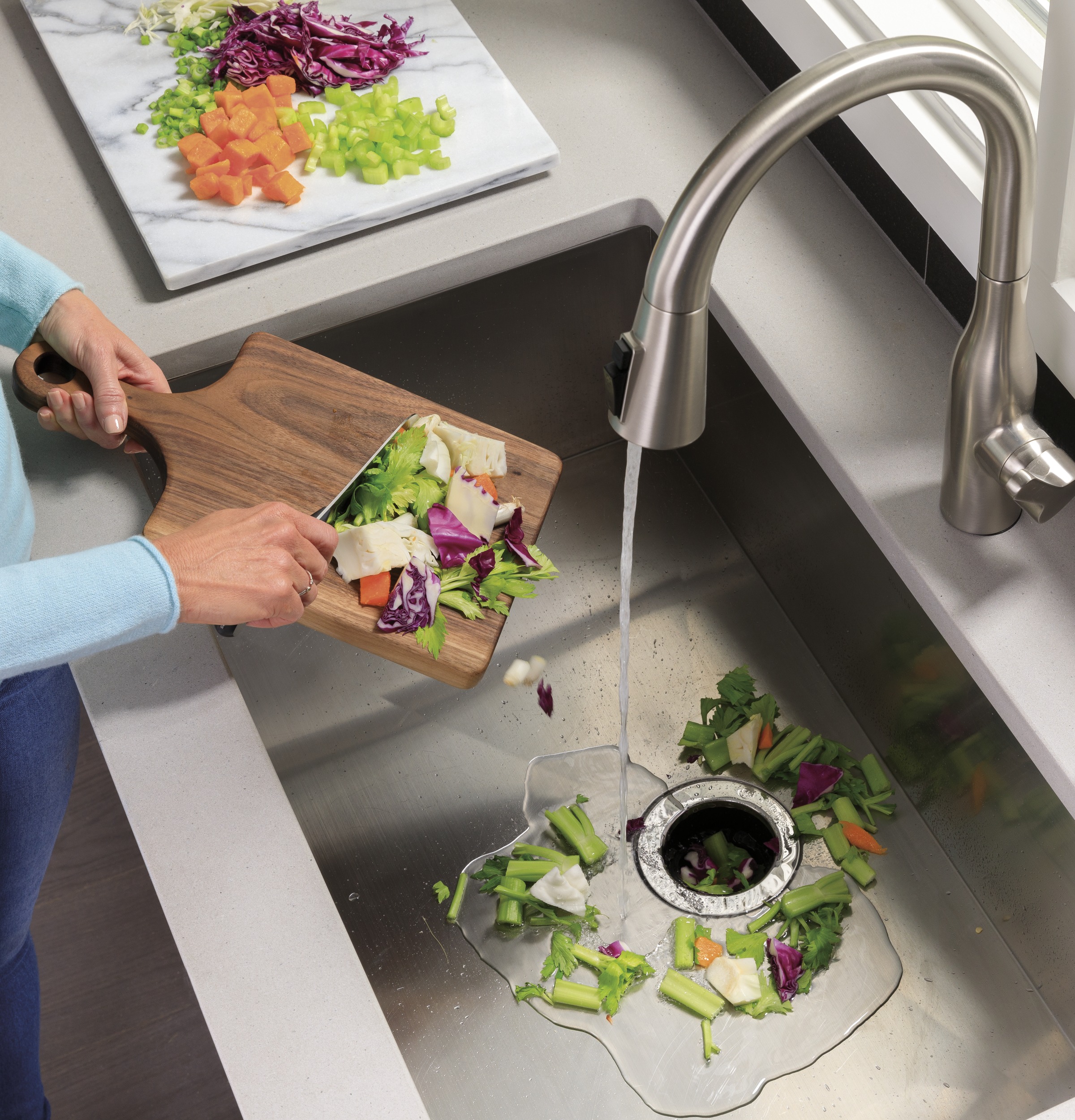 Over 2,700 RPM
Great for owners who cook daily, this over 2,700 RPM garbage disposal spins at a high speed to give tough foods like vegetable peels, fruit pits and small bones a fine grind.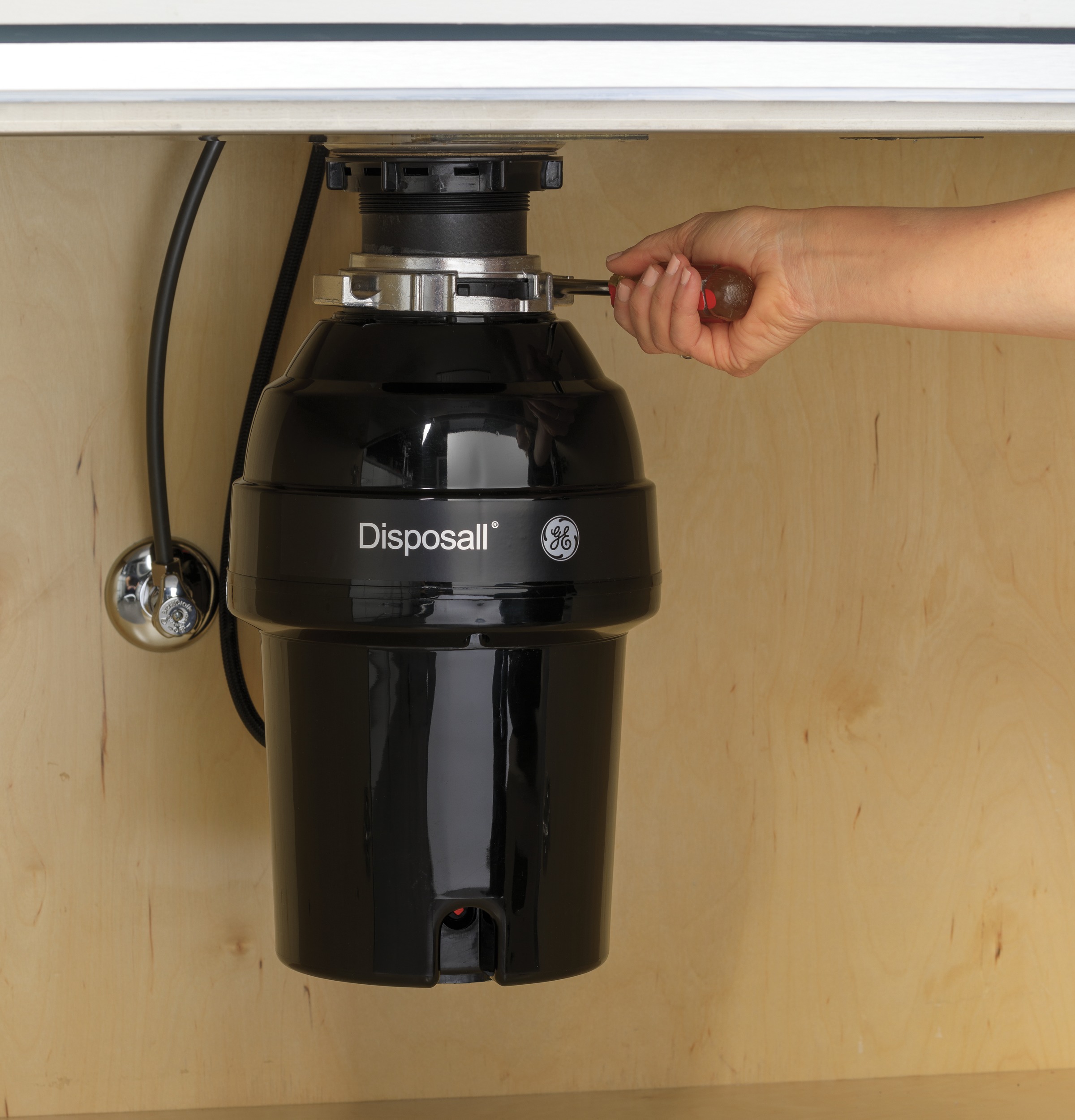 Easy Installation
This DIY, easy installation food disposal only requires a few steps and has everything you need included in the box. It also comes with a 3-bolt, easy-mount adapter kit for select replacement installations.
Reduce Waste
This anti-jam food disposal reduces waste and keeps kitchens clean by easily grinding food scraps, making it easier to minimize food sent to landfills.
32-Ounce Grind Chamber Capacity
Extra-large 32-ounce grind chamber capacity lets you grind more types of food, so you can reduce food waste and keep your kitchen clean. This is the recommended food disposal for a family of 2-4 people
Stainless Steel Grinding Impellers
This anti-jam garbage disposal is designed with durable, rust-resistant stainless steel grinding components that stay sharp longer than other metals.
| Feature | Description |
| --- | --- |
| Armature Shaft Material | Cold-Rolled Carbon Steel |
| Control Type | Wall Switch |
| Disposer Features | 2 Level Precutter, Drain Connector, Drain Elbow, DrainPurge Technology, Manual Reset Overload Protector, Sink Stopper, Splash Guard - Non-Removable |
| Feed Type | Continuous |
| Grinding Ring Material | Stainless Steel |
| Grinding Speed (RPM) | 2700 RPM''s |
| Hopper (grind chamber) material | Glass Reinforced Nylon |
| Impellers | Dual Swivel, Jam Resistant, Stainless Steel |
| Motor Horsepower | 3/4 hp |
| Mounting Type | EZ Mount |
| Part Type | Continuous Feed Disposers |
| Precutter Material | Stainless Steel |
| Turntable Material | Stainless Steel |
| Feature | Description |
| --- | --- |
| Color Appearance | Black |
| Feature | Description |
| --- | --- |
| Unit Capacity | 32 oz hopper |
| Feature | Description |
| --- | --- |
| Approximate Shipping Weight | 13 inches |
| Dishwasher Inlet Diameter | 0.75 inches |
| Drain Outlet Diameter | 1.5 inches |
| Net Weight | 11 inches |
| Overall Depth | 8.5 inches |
| Overall Height | 14.5 inches |
| Overall Width | 8.5 inches |
| Feature | Description |
| --- | --- |
| Power Connection | Direct Wire |
| Volts/Hertz/Amps | 120 V; 60 Hz; 6.0 A |
| Feature | Description |
| --- | --- |
| Labor Warranty | Limited 1-year entire appliance |
| Parts Warranty | Limited 5-year entire appliance |
| Warranty Notes | See written warranty for full details |