GE Profile ClearView™ 6,100 BTU Smart Ultra Quiet Window Air Conditioner for Small Rooms up to 250 sq. ft.
FEATURES Louver Style 2-Way Fan Speed Selections 4 Cooling, 4 Fan Only Power Cord Length 72" Minimum Product Type Window Refrigerant Type R32 Filter Type One Touch Lift-Out Chassis Type Fixed Vent/Air Exchange Exhaust Top Air Discharge Plug Type Parallel/NEMA 5-15 Mounting Type EZ Mount Delay Timer 24-Hour On/Off Timer...
• Own this product? See Maintenance & Care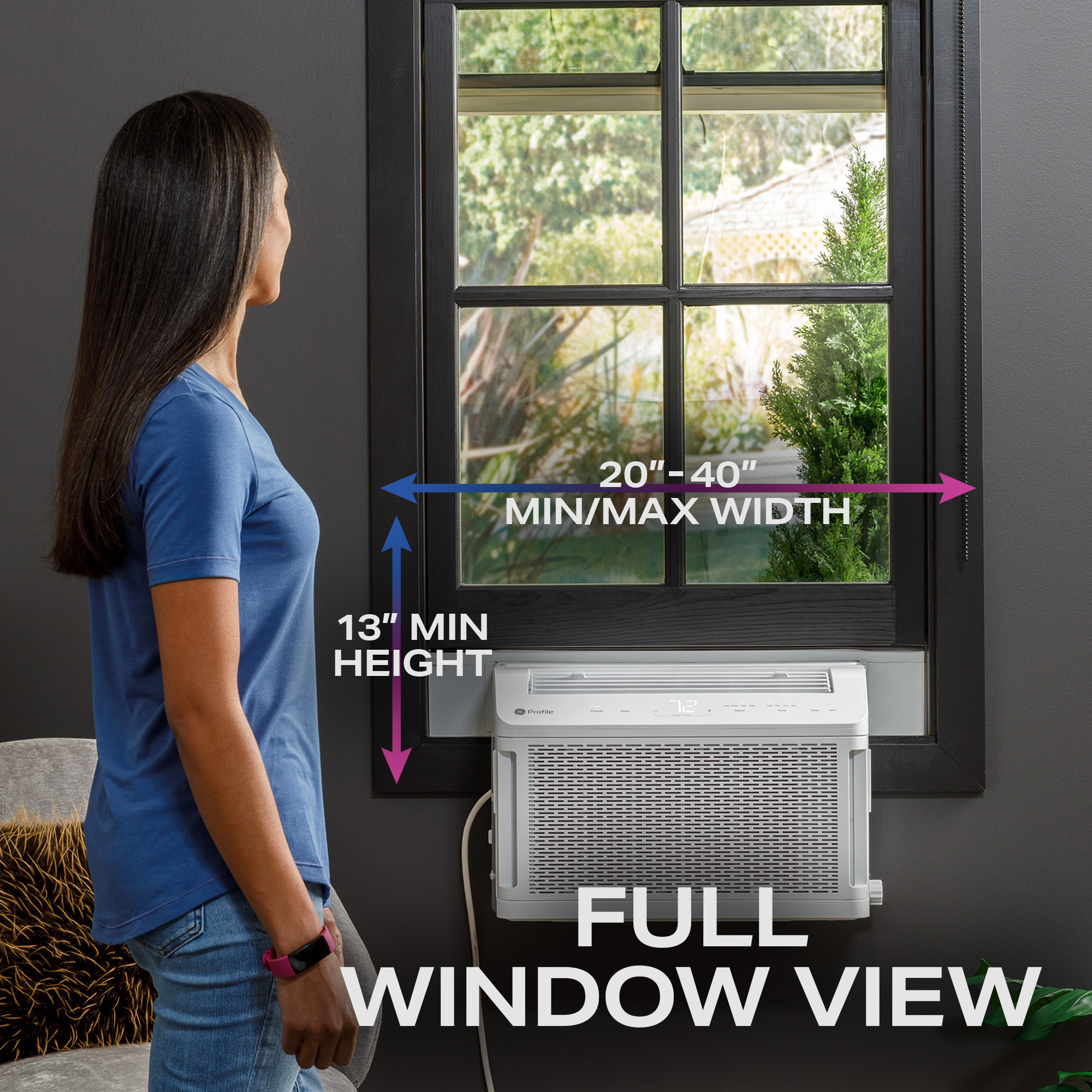 Full Window View
This window air conditioner is designed to maintain the full view through the window, letting it open and close freely after you install the unit and allowing more natural light into the room. Fits windows 20"-40" wide, 13" minimum window opening height, 10" minimum height from floor.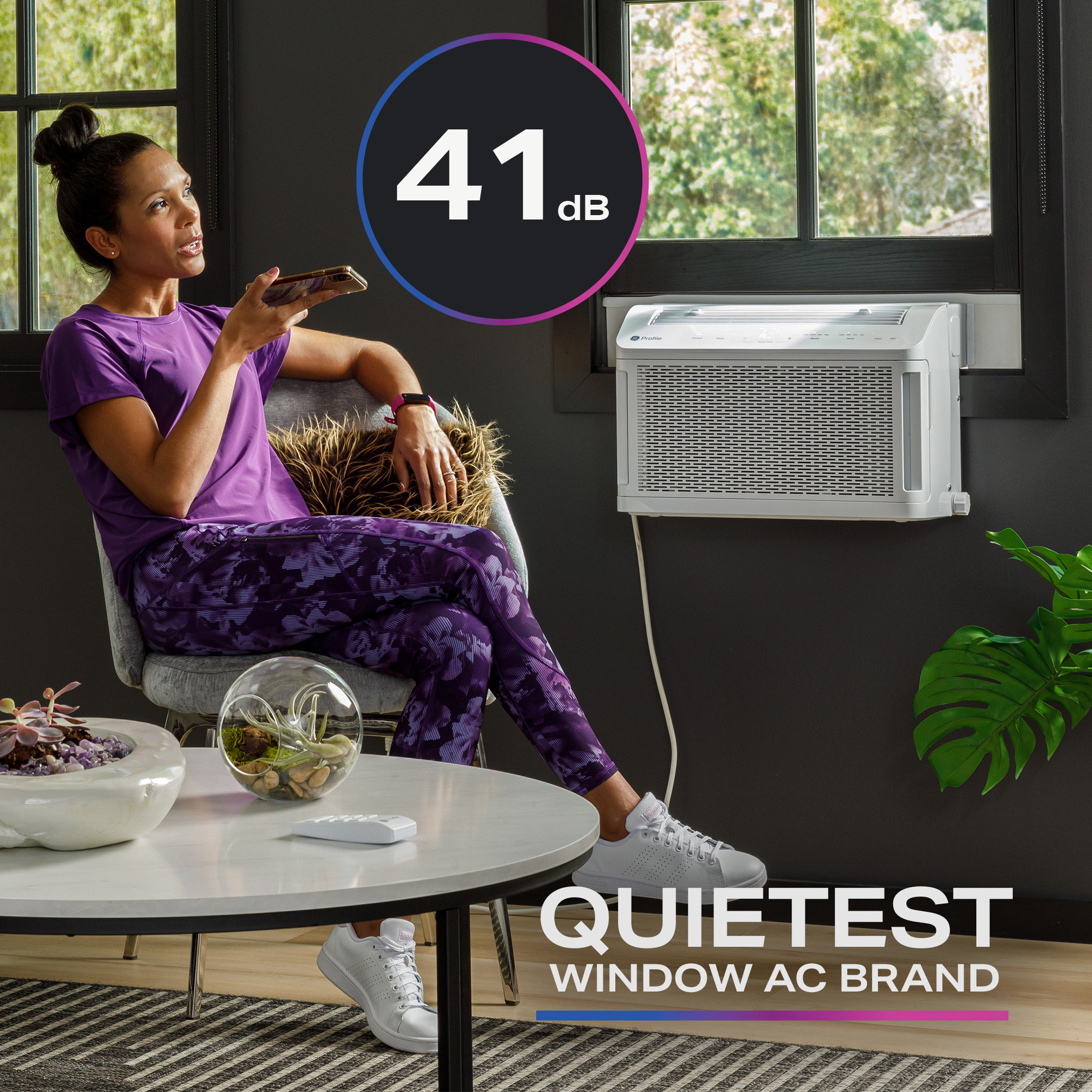 Ultra Quiet
This quiet air conditioner reaches sounds as low as 41 dB, underlining GE Profile''s rating as the Quietest Window AC Brand. (Based on avg sound ratings by brand of 5K-24K BTU cooling only Window AC from publicly available info, compared to 74% of the product in the US Window AC category per Traqline 9/23)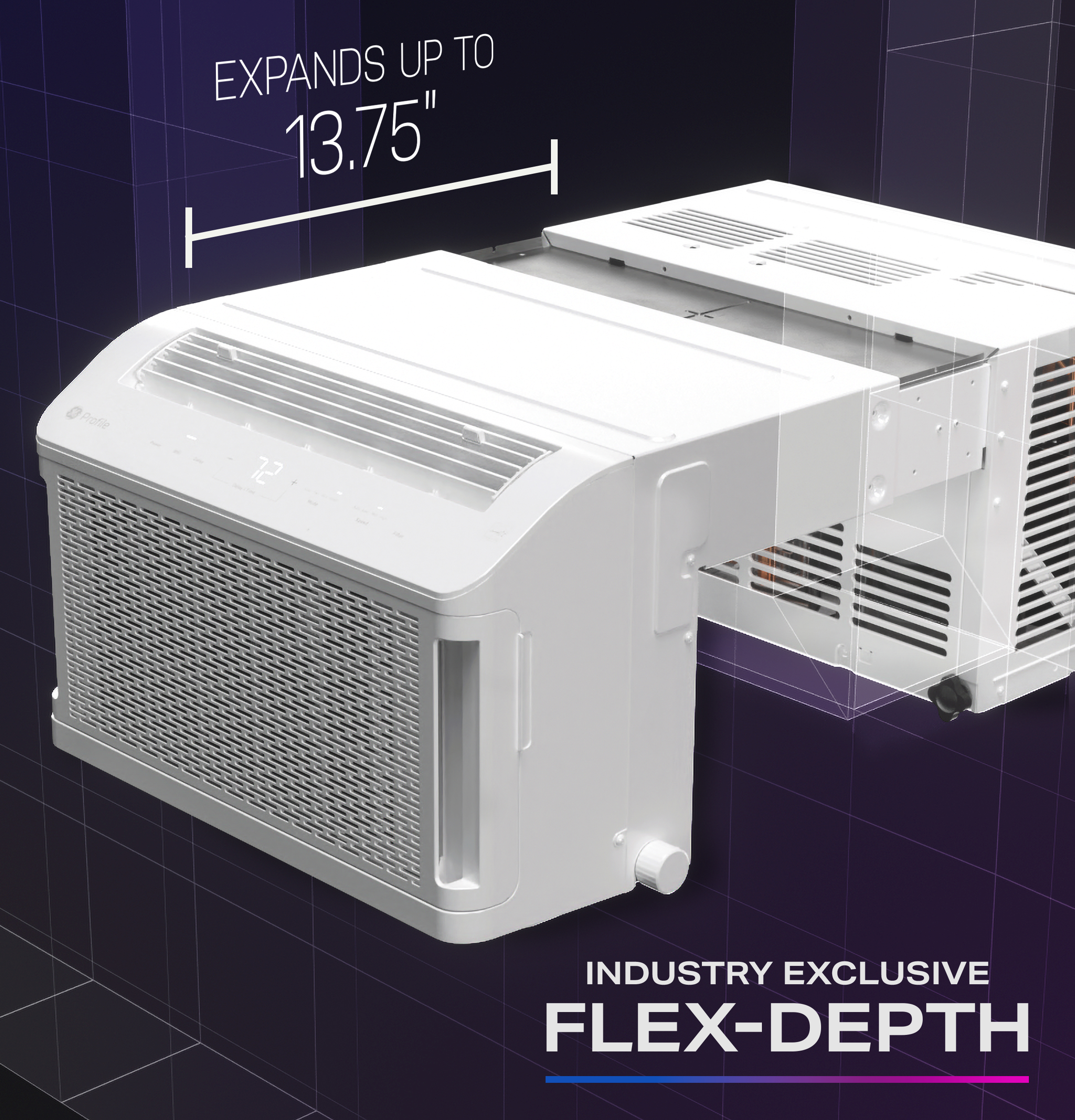 Industry Exclusive Flex-Depth
The industry exclusive flex-depth design is an expandable chase-way that accommodates walls between 4.5" to 13.75" thick. The product comes in the closed position and can be expanded to custom fit your windowsill depth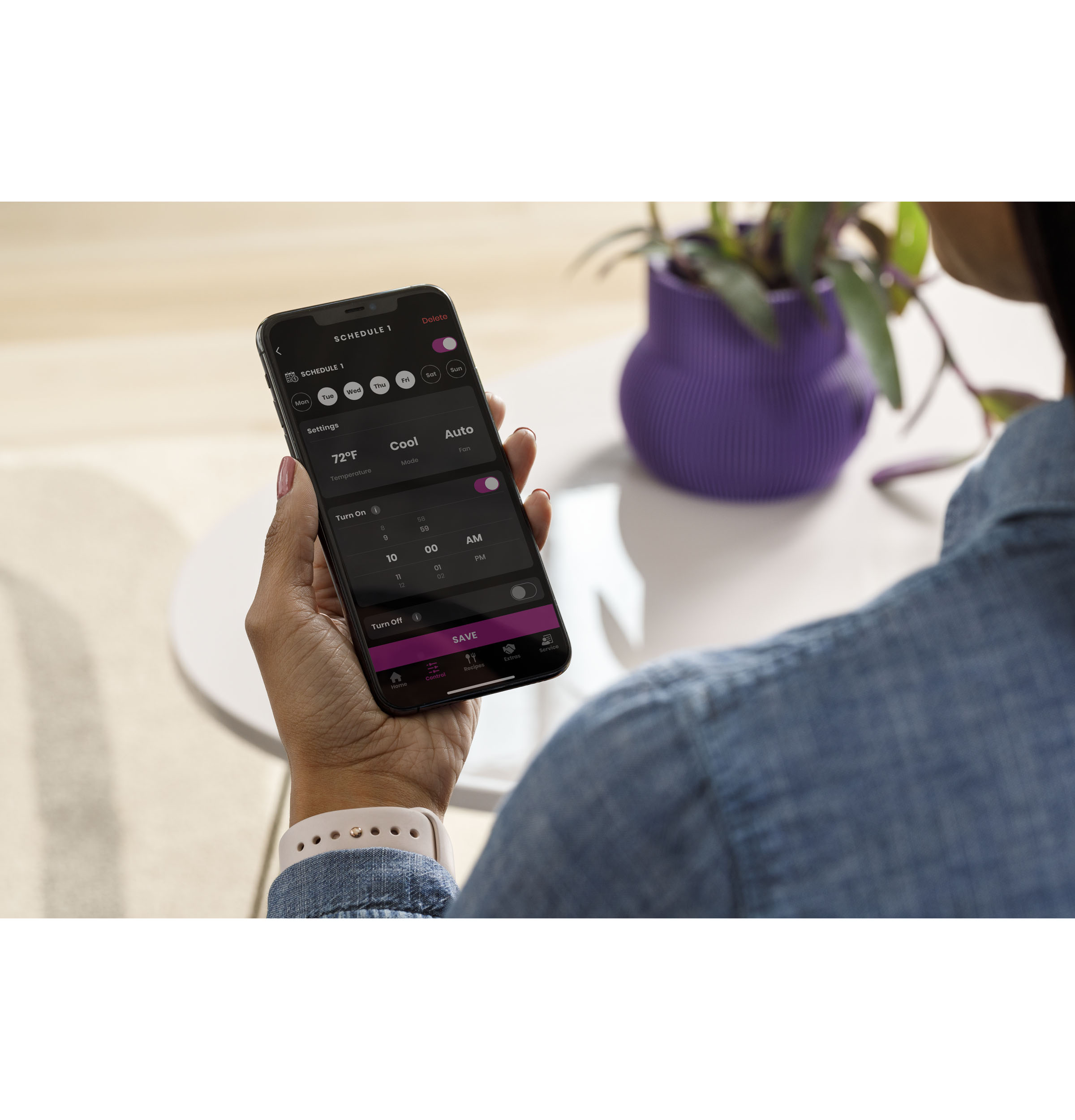 Built-In WiFi
Use the SmartHQ app to control and monitor this WiFi enabled smart air conditioner from anywhere, giving you connected peace of mind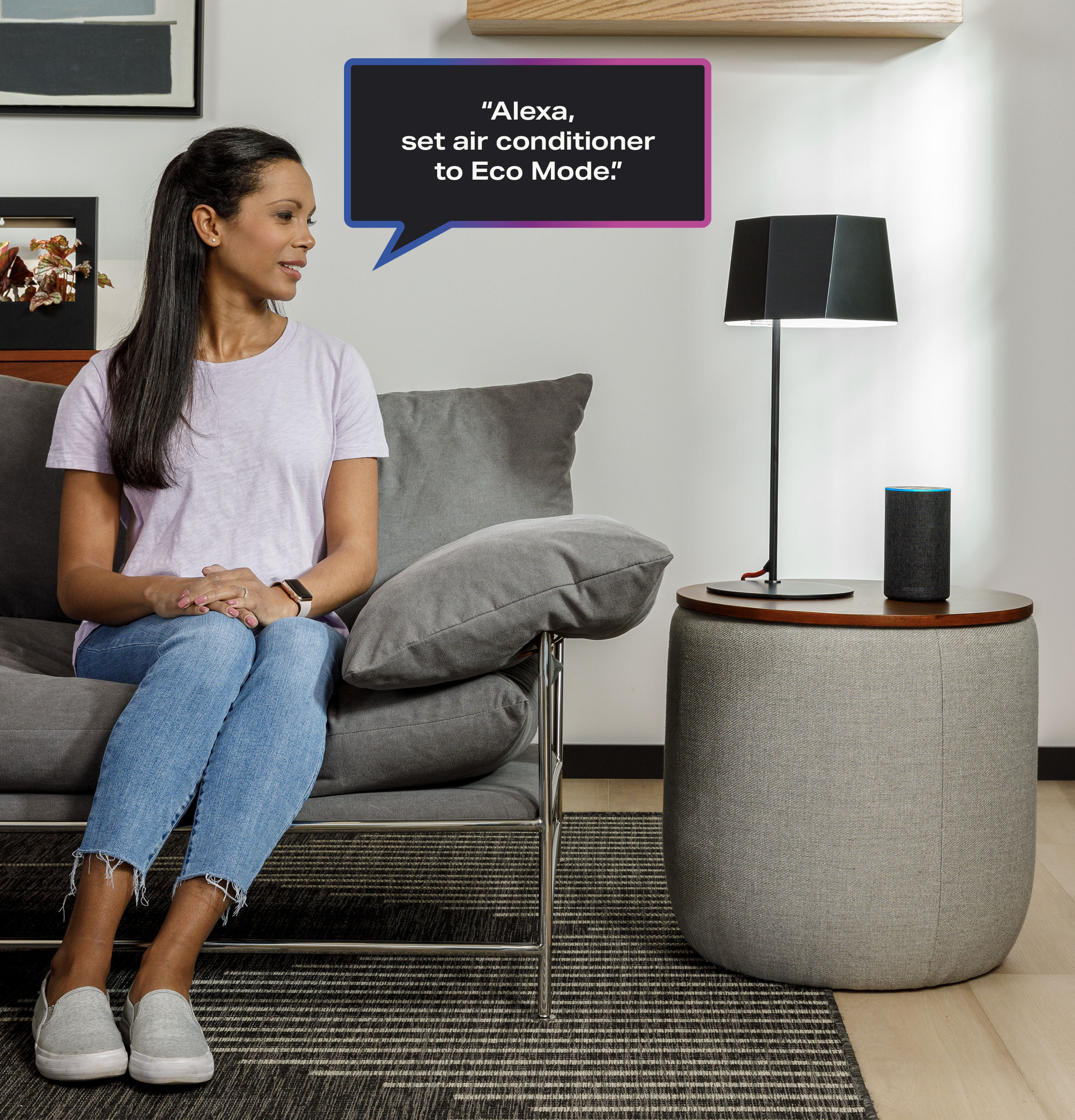 Voice Control
Use voice commands to control the unit after connecting it to a smart speaker like Amazon Alexa or Google Assistant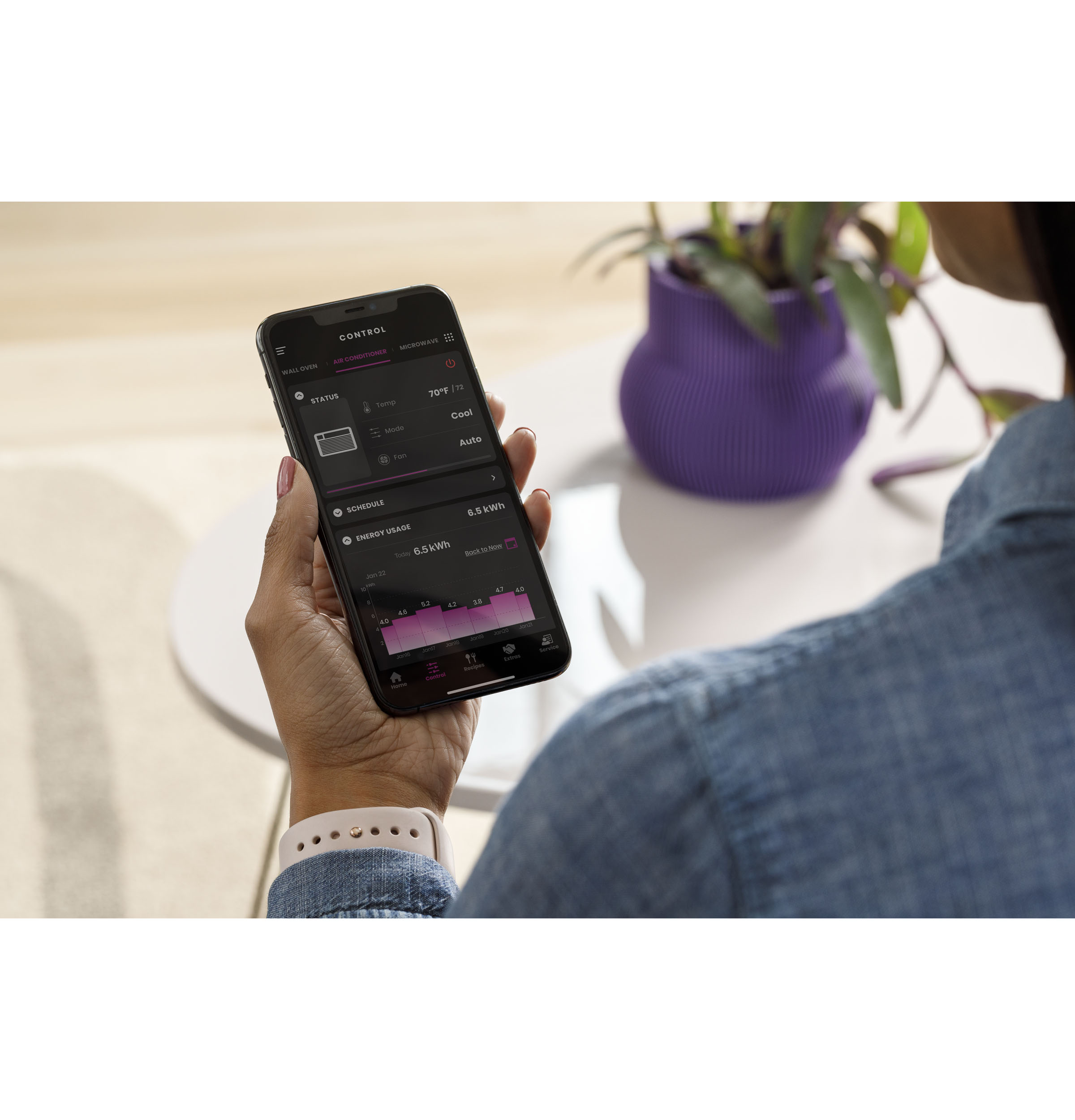 Energy Reporting
Monitor air conditioner energy consumption with reports that show how much you''ve used, so you can maximize savings and enjoy a truly connected performance
| Feature | Description |
| --- | --- |
| Airflow (cfm) Roomside (hi/low) | 145/110 |
| Area to Cool | 150-250 |
| Chassis Type | Fixed |
| ClearView™ | Yes |
| Connected Capabilities | Amazon Alexa, The Google Assistant |
| Delay Timer | 24-Hour On/Off Timer |
| Digital Time Temp Display | Yes |
| Fan Speed Selections | 4 Cooling, 4 Fan Only |
| Filter Type | One Touch Lift-Out |
| LCDI / AFCI power cord | Yes |
| Louver Style | 2-Way |
| Mounting Type | EZ Mount |
| Plug Type | Parallel/NEMA 5-15 |
| Power Cord Length | 72" Minimum |
| Product Type | Window |
| Refrigerant Type | R32 |
| Remote Control | Yes |
| Room Air Conditioner Features | Capacitive Touch, Check Filter Remind, Delay Timer, Dry Mode, Ultra Quiet |
| Rotary Compressor | Yes |
| Thermostat Type | Electronic |
| Unit Type | Cool Only |
| Vent/Air Exchange Exhaust | Top Air Discharge |
| WiFi Connect | Built-In |
| Feature | Description |
| --- | --- |
| Color Appearance | White |
| Installation | EZ Mount |
| Feature | Description |
| --- | --- |
| Cooling BTUH (MAX) | 6100.000000 |
| Dehumidification (pts./hr.) | 1.3 |
| Feature | Description |
| --- | --- |
| Minimum Window Opening Height (in.) | 13 inches |
| Approximate Shipping Weight | 77.16 inches |
| Depth to Louvers | 18.38 inches |
| Grille Depth | 2 inches |
| Min./Max. Window Opening Width (in.) | 20 inches |
| Net Weight | 70.55 inches |
| Overall Depth | 28.0 inches |
| Overall Height | 12.75 inches |
| Overall Width | 19.63 inches |
| Feature | Description |
| --- | --- |
| CEER | 11.5 |
| Cooling - Rated Cooling Amps AHAM | 4.6 |
| Cooling - Watts | 510 |
| Sound Level (High Fan, Cool) | 52/63 dBA |
| Sound Level (Low Fan, Cool) | 51/63 dBA |
| Sound Level (Quiet Mode, Low Cool) | 41 |
| Voltage (MAX) | 115.000000 |
| Feature | Description |
| --- | --- |
| Parts Warranty | 1-Year Replacement |
| Warranty Notes | See written warranty for full details |